Student Success Story
Students Work to Empower Women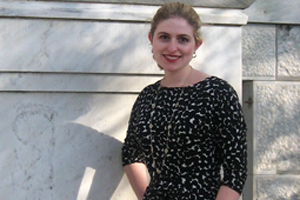 The theme of Women's History Month 2012 is "Women's Education - Women's Empowerment." The National Women's History Project (NWHP) maintains that when students help to educate others, they can help empower women worldwide.
Rebecca Hollingsworth, director of youth outreach and education for NWHP, works to inform people about women's contributions to society and to inspire future accomplishments.
"There are people who don't think we need these months [honoring special groups]" says Hollingsworth. "But we can spend our lives so busy, going from one thing to another without ever stopping to ask, 'who am I?' Women's History Month allows us to highlight aspects of ourselves and each other as a means of both self and group empowerment."
Many AU students are paying tribute to women's history and advocating for women's issues year round, at home and abroad, through inspiring jobs and internships. 
Quinn Smeaton, SIS/BA '13, pursued an internship with the Moraa New Hope Foundation while studying abroad in Nairobi, Kenya, in the fall of 2011. A key focus area for this organization involves helping young women prepare to achieve successful futures.
During her four months in Kenya, Smeaton worked on two projects. The first, "Go-Girl Financial Literacy Project," aimed to teach girls about the importance of fiscal savings. Smeaton also helped the foundation organize events to celebrate the girls' progress in the program with music, dancing, and food. These so-called "Fun Days" were designed to create an additional, more light-hearted incentive for the young girls to continue on with their work, says Smeaton. This mix of training in applicable skills with jovial community-building events seemed to work, as 791 girls signed up for the program during Smeaton's internship.
Through the second project, "A New Beginning, A Brighter Future," Smeaton reached out to women involved in commercial sex work in the Kenyan towns of Majeago and Lunga Lunga. Many of these young women are forced into this kind of work due to extreme poverty and lack of opportunities. This project provides such women with start-up funds, personal financing, and workshops that allow them to become entrepreneurs and pursue a new path in life.
"We helped give them skills they can use for the rest of their lives," says Smeaton. "Many women abroad don't have the same opportunities we have here. We were able to give girls opportunities to change and realize they are capable of doing more."
Like Smeaton, Tory Cwyk, SIS/MA '13, used education to inform and empower women.
She completed two consecutive internships with the Women's Foreign Policy Group (WFPG), which highlights the contributions and voices of women leaders - past, present, and future - in international affairs. There, Cwyk was able to combine two of her principal interests: foreign policy and women's issues.
Cwyk met many prominent individuals in international affairs as she organized events with influential female ambassadors, authors, and legislators, like Senator Dianne Feinstein.
"Since WFPG is a small organization with only two paid staffers, interns are able to really get involved," says Cwyk. "We are given a lot of responsibility, which enables us to learn more than at many other internships."
She also helped compile and research the women who made it into the foundation's annual "Guide to Women Leaders in International Affairs." This 53-page publication, available through the organization's website, showcases prominent women in international affairs.
"It's very empowering to give women a voice, making sure they are represented," says Cwyk. "This organization creates a great environment to speak out and be heard."
Smeaton and Cwyk's internships are directly related to the theme of this month, "Women's Education – Women's Empowerment."
"If you want any say in the world, you need education," says Hollingsworth. "Knowledge is empowering and leads to self-determination, which allows for options in the future. Internships are a form of empowerment."
These students are not only empowering themselves, but also those they are helping and educating through their efforts. Additionally, they're building upon the rich history of women's past accomplishments.