Student Success Story
AU Students Take on Hot Topics of the Year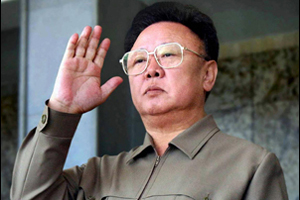 Looking back just a few months, it's clear that 2011 was a dynamic year filled with several historical and world-changing events. The death of North Korea's longtime dictator, Kim Jong-il, left people everywhere questioning that country's future. The European Union struggled to resolve severe economic issues with global ramifications. And the democratic protests across North Africa and the Middle East toppled governments and affected millions. But while the majority of us bore witness to these momentous events through the media, many AU students became active participants through their internships, volunteer positions, and study abroad programs.

As an intern with the Washington, D.C.,-based Committee on Human Rights in North Korea (HRNK), Rosa Park, SIS/BA '12, continued working through the 2011 winter break--even on Christmas day--as her organization responded to the global shock wave caused by Kim Jong-il's death. Now in her second semester at HRNK, Park helps manage the organization's social media outreach, while also conducting research and submitting daily press summaries.

"Kim Jong-il's death was definitely a huge milestone," says Park. "There is a lot of speculation right now because so little is known about Kim Jong-un, the successor. We have to analyze the information and infer what exactly is happening in a society where there are so few who know what is actually going on."

Advocacy groups and Western governments have long regarded North Korea's regime as one of the world's worst violators of human rights. Although many are skeptical that this power shift will lead to any major improvements within the impoverished country, groups like HRNK are putting on external pressure for reform. Working with such an organization at a time of major change and excitement has reinforced Park's goal of pursuing a career in human rights.

"Taking on this internship is one of the best decisions I've made," says Park. "Since I'm Korean-American, I have a personal connection to the issues that are happening, as well as a deep interest in human rights."

While interning with the Atlantic Treaty Association (ATA) in Brussels, Belgium, during the summer of 2011, Greg Wells, SIS/MA '12, worked on a variety of issues grabbing headlines that year. Wells attended conferences regarding European Union (EU) security, the future of the North Atlantic Treaty Organization (NATO), and concerns pertaining to the Arab Spring as the conflict in Libya raged just across the Mediterranean Sea and NATO led airstrike campaigns there.

In one assignment, Wells helped develop ATA's Wikistrat Global Grand Strategy Competition. This month-long competition brought together graduate students representing top-ranked universities and think tanks worldwide to simulate how 13 countries might respond to five key security issues: global energy security, global economic rebalancing, international terrorism, the Chinese-American relationship, and nuclear proliferation in the Middle East. The goal of this competition was to receive fresh perspectives on topical issues and foreseeable global challenges. Through this internship, Wells gained new insight into the media's portrayal of world events.

"Often times the media latches on to smaller aspects of larger issues," says Wells. "Sometimes we don't know the big picture on what the rest of the world is doing… The U.S. seems to portray the Arab Spring as a new phenomenon, but in reality the situation has been fermenting for some time."

Wells' experience in Belgium influenced his own research completed for an independent study, titled "NATO's Evolution and the Curse of Collective Action." Wells is continuing his research to focus on the future role of NATO in U.S. foreign policy.

Last spring, David Burkhart, SIS/BA '12, was three months into a semester studying abroad at The University of Aleppo in Syria when the protests there suddenly forced him to evacuate.

Burkhart had heard stories about protests while at Aleppo, but it seemed like a distant event. "Then a protest occurred within my university," says Burkhart. "I witnessed it. [Foreign students] had to leave the protest area that evening and were given 36 hours to get on an airplane to Frankfurt, [Germany]."

Earlier this month, approximately one year after the violence against protestors erupted in Syria, the government and resistance forces agreed to a ceasefire.
 
Burkhart returned to the U.S. to finish his classes online. But he soon grew restless, wanting to be a part of the history unfolding in the Middle East. He went to Beirut, Lebanon, to study Arabic at a private institution and signed up to volunteer as an English teacher in Hezbollah-controlled suburbs.

"The place I taught was very close to a Palestinian refugee camp, which housed 20,000 people in one square kilometer," says Burkhart, who is now back at AU to complete his final semester. "To hear their views on society and life and to see how international development took place are experiences I couldn't get at home."

Burkhart's Arabic courses have helped him to connect with people and events in the region. He describes "language as the path to understanding the people," and his growing fluency contributed to his decision to move to the Middle East after graduation this May.

The students' internships and volunteer experiences not only lead to career opportunities. The resources made available by American University and Washington, D.C., often allow students to partake in momentous experiences and become active participants in history.