Student Success Story
Alumna's Career Began at the AU Job and Internship Fair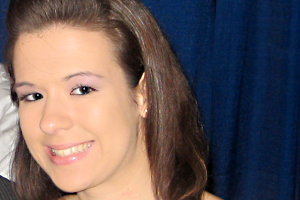 If you need some inspiration to begin preparing for AU's spring Job and Internship Fair on March 24, look no further than recent alumna Megan Lilly, SOC/BA '11, who took full advantage of the fall 2010 Fair to jump-start her career.

She entered the Job and Internship Fair as a senior, determined to begin working right after her December graduation. But Lilly, who aspires to manage hotels someday, didn't run to the nearest exit after realizing her dream job was not being offered. She approached a representative from Sabre Hospitality Solutions with a confident introduction and her resume in hand.

Two weeks later, she accepted a job offer from Sabre.

"Lilly was successful at the Fair because she showed flexibility in her job search," says Bridget O'Connell, director of outreach and marketing at the Career Center. "By keeping an open mind, she found a company within a related industry with which she could gain valuable experience and develop marketable skills."

Lilly is now a business analyst in Sabre's Internet Marketing Services department. In this newly-created position, she focuses on Web marketing for hotels, which includes developing e-mail campaigns and reservation systems. Not only is she gaining real-world experience that she believes will help her to reach her career goals, but the work is rewarding.

"Working with Sabre has shown me how much I enjoy marketing," says Lilly. "It's cool that only two months into the job, I'm seeing results."

Maximize the Event

In addition to dressing professionally and bringing up-to-date resumes to give out at the upcoming Fair, there are several easy steps you can take to capitalize on this career development opportunity.

According to Lara Ramos, assistant director of employer outreach at the Career Center, successful fair-goers demonstrate their knowledge of an organization while speaking with its representatives. They also show how their skill set relates to its needs. But to do these things well, students and alumni must take the initiative to learn about the employers beforehand.

"The most prevalent feedback we get from recruiters is that they wish Fair attendees had taken some time to research their organizations before speaking with them," says Ramos.

Students can find a list of companies, nonprofits, and government agencies attending AU's spring Job and Internship Fair by looking at the employer directory on the Career Center's website. This year's guide is searchable by position type and job function, and has sections with tips on dressing professionally and how to improve your elevator pitch.

Instead of continually repeating the same general spiel about their organization, Ramos says employers hope to have "efficient and meaningful conversations" with potential employees and interns. When approaching a table, be prepared to express what you like about an organization. Referring to a particular initiative it's pursuing can display a genuine interest, which is sure to make you to stand out.

But a new suit, polished resume, and meaningful conversation are not always enough to land you a position. Career Center advisor David Fletcher encourages Fair attendees to follow up with potential employers by e-mail within a few days of meeting, with an electronic version of their resumes attached.

"This makes it easy for an employer to remember you and have your information on hand," says Fletcher. "The key is to eliminate as many obstacles to getting called back as possible."

And don't give up if an organization you're interested in doesn't presently have an opening that suits you, says Ramos. Get the representative's contact information and ask to follow up in a month to see if any new positions have become available. With simple and polite correspondence like this, students and alumni can build and maintain professional relationships while expanding their network.