Alumni Success Story
Alumna's Global Journey Sheds Light on Her Culture and Scholarly Ambitions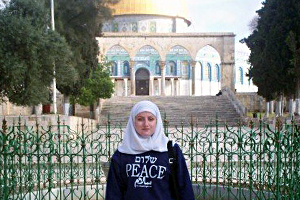 As an Arab-American female coming of age in the Midwest, Nawal Mustafa, SIS/BA '08, longed to learn more about her own culture and history.
Mustafa was raised on tales of her grandparents' long journey from Palestine to America. Fleeing the Arab-Israeli War in 1948, they had struggled as both refugees and ethnic minorities in Kuwait, Jordan, and eventually the United States. Their stories stuck with Mustafa as she grew older, prompting her to ponder how the war had shaped her family members' current identities.

"How do collective identities form, emerge, or even transform in light of regional conflicts and international politics?," she recalls asking herself. In a quest to explore how these issues pertained to the Middle East, she enrolled in AU's School of International Service (SIS).
Mustafa majored in international relations, with a minor in Arab studies, making a point of working closely with SIS professors knowledgeable about the Middle East. She served as a research assistant to Dr. Mohammed Abu-Nimer, who specializes in peace and conflict resolution, and helped edit book chapters for Professor Abdul Aziz Said.

During her junior year, Mustafa earned a Boren Scholarship and studied Arabic at the American University in Cairo. There, she witnessed how identity issues play a major role in Middle East politics and society.
"A few images struck me," says Mustafa. "I observed how two key political actors – political Islamist movements and Arab nationalist movements – wielded considerable influence in local and regional politics."
Mustafa's insights into how these competing factions built and maintained support led her to consider a career as a scholar or educator. During this time, she was also teaching English to Sudanese refugees, which furthered her passion for teaching.
After returning to Washington in 2007, Mustafa stayed focused on the region by interning with the Center for Strategic and International Studies' Middle East Program. Upon graduation, Mustafa continued her Arabic language studies at Dhofar University in Salalah, Oman, through the U.S. Department of State's Critical Language Scholarship. She also traveled to Palestine, Israel, Jordan, and Lebanon.
Back stateside, Mustafa recently completed a year-long research associate position at the International Forum for Democratic Studies at the National Endowment for Democracy (NED), a nonprofit organization that promotes democracy by providing cash grants to nongovernmental groups.
It was her experiences at AU and abroad, says Mustafa, that got her the job. She believes that her abilities to adapt to a new environment and remain culturally sensitive are marketable assets that have impressed potential employers.
"I think the biggest experience [NED] valued, what really shined for them, was that I helped AU professors who had worked with people of different backgrounds," says Mustafa.
She notes that employers are not necessarily expecting students to be experts. However, they do want those with an international focus to have experienced the culture and language of the region they choose to work in.
"It is so important [for students] to gain international experience and [foreign] language proficiency," Mustafa says.
Presently, Mustafa's interests lie primarily in research. She is currently working toward her master's of science in international relations at the London School of Economics and Political Science. Afterward, Mustafa intends to apply to PhD programs in political science and international relations, then conduct fieldwork for her dissertation in Egypt or another Middle Eastern country.
By taking advantage of so many research and career opportunities, Mustafa is well on her way to becoming a Middle East scholar—and to better understanding her own identity.