Student Success Story
Alleviating Poverty One Internship at a Time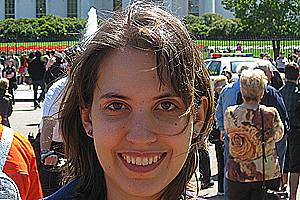 As Julia Young, SIS '12, entered the Kay Spiritual Life Center for her Catholic Community Choir and Ensemble practice, she spotted a flier announcing internship opportunities with the Catholic Campaign for Human Development (CCHD). The CCHD, a program led by the U.S. Conference of Catholic Bishops, works to address the root causes of poverty in the U.S. by promoting and supporting social justice-oriented organizations.
With a poverty and culture class under her belt and an interest in development work, Young pursued an internship with the organization in the fall of 2009. As CCHD's only intern, Young feels like a valued member of the team. She has her own office space, attends staff meetings, and is responsible for managing her own projects, such as updating the organization's Web site. Young also writes newsletters, translates the organization's materials into Spanish, and calls and writes reports about organizations funded by CCHD grants. Though Young's written work is always vetted by a supervising bishop, she has found that the internship is still flexible, allowing room for creative output. "I feel like I'm valued and contributing to [the cause]," Young said.
When Young reaches out to CCHD's partner organizations, the people she typically speaks with have experienced poverty firsthand and have benefited from the organization's support. Making this personal connection to CCHD's mission has made Young more compassionate, she said. For example, through her internship she now recognizes the vendors who sell StreetSense, a newspaper written mainly by homeless and formerly homeless individuals and sold to create economic opportunities for them, at the nearby Metro station.
Working with different organizations that share a common goal of alleviating poverty has reassured Young that the poverty movement is heading in the right direction. "It's a nice boost of optimism, that there are thousands of organizations out there," Young said. Young is also involved with organizations that support individuals on campus. She is the co-chair of Community Learners Advancing Spanish and English (CLASE). CLASE is focused on forming solidarity between AU students and Aramark and Bon Appétit employees who work on campus. CLASE allows the employees to boost their English skills by working with AU students.
Young's time at the CCHD has taught her that trying different experiences is beneficial, and she encourages fellow AU students to do the same. "Apply for everything that comes your way," Young said. "If I hadn't reached out, I wouldn't have had this [internship]. Even if I don't want to work for the Church, it's still worth exploring now. It's something I'm really glad I took advantage of."