Academics Success Story
AU Students Study Abroad Through Gilman Scholarships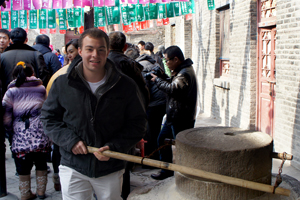 Studying abroad can bring a lot of benefits: immersion in a new, exciting culture; the opportunity to master a foreign language; and an enriching academic experience with career benefits. But it can also bring some hefty financial costs. So, how can students lighten their debt load while still enjoying dim sum and lo mein after class in Beijing?
 
The Gilman International Scholarship Program provides students who might not otherwise be able to afford studying abroad the ability to take part in such a life changing opportunity. The goal of the Gilman Scholarship Program is to assist undergraduates pursuing their education in non-traditional countries (i.e., not Western Europe or Australia). Students from all fields of study are encouraged to apply.

This semester, six AU students are abroad on Gilman Scholarships. Abigail Ewart, SIS/BA '13, Sophia Higgins, SIS/CAS/BA '12, Shelby Jamerson, SIS/BA '13, and Marti Lankford, SOC/CAS/BA '12, are studying in Egypt, Chile, Kuwait, and Taiwan, respectively. E.J. Thomas, SPA/BA '14, and David Rubin, SIS/BA '13, are in China.
Thomas chose to study in Beijing in order to prepare for a career as an international corporate lawyer focused on China.

"I've found class time and my legal internship here to be the most valuable experiences since going abroad," says Thomas. "I'm learning so much about where I want to go with my career and, more importantly, about doing business in China."

To apply for a Gilman Scholarship, students must prepare an essay, a service proposal, the official application form, and provide their school transcripts. For Thomas, the Office of Merit Awards (OMA) greatly aided in the development of his application.

Thomas says that Liz Romig, merit awards coordinator for OMA, "was a huge help in looking over my essay and suggesting a service proposal."

David Rubin also chose to study in Beijing. He was awarded a Critical Language Supplement in addition to the Gilman Scholarship. This financial grant was only awarded to 50 students engaged in learning what the U.S. Department of State's Bureau of Education and Cultural Affairs identifies as a critical language to the future of U.S. foreign policy.

After taking several courses in Mandarin language and Chinese culture, Rubin decided to study abroad to augment his studies with first-hand experience in China.

"I realized that as an outside observer, I would have a difficult time truly grasping my academic interests if I had never visited China," he says.

Rubin agrees that the Office of Merit Awards is extremely helpful during the application process. He too refers to Liz Romig as a supportive guide throughout the application process.

"[She] not only helped me revise the application essays numerous times, but also served as an on-campus resource and contact for many of the administrative aspects of the process," says Rubin.

Rubin already feels that his Mandarin language skills have improved since his immersion in Beijing just a few weeks ago. Likewise, he is thrilled with the academics at Peking University. Two courses in particular, "Rural Economics" and "Doing Business in China," are proving invaluable.

Rubin is also enjoying being immersed in modern Chinese culture.

"It is especially interesting to me to observe how many elements of Chinese culture are currently in a state of transition," he says. "Especially as many Chinese join the middle class and develop a cosmopolitan, though still distinctly Chinese, identity."

As a supplement to the Gilman Scholarship, students are required to do a service project upon their return to America. Thomas' project will involve coordinating an information session about the Gilman Scholarship with the Office of Merit Awards so that more students are aware of the financial assistance available for studying abroad. Rubin will also represent Gilman as an alumnus and student representative at the fall 2012 AU Study Abroad Fair.
Current undergraduates interested in applying for a Gilman Scholarship are encouraged to call OMA at 202-885-1854 to schedule an advising appointment. March 1 is the application deadline for summer 2012, fall 2012, and academic year 2012-2013 programs.