Science
Finding Her Future Path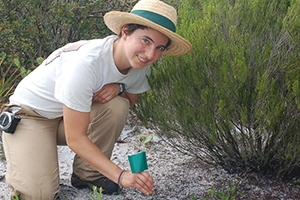 Since becoming a post-bac intern at central Florida's Archbold Biological Station, AU alumna Stevia Morawski '12 has handled eastern indigo snakes during a research project, gone frogging and birding with other interns, and helped with prescribed burns to protect the scrub environment.
The environmental studies program graduate, who has interned at the 8,840-acre research station and reserve since July, works 20 hours a week in the plant ecology lab, tracking such data as the population dynamics of rare and endemic plants. The other half of her time she spends on a personal project.
For that project, Morawski is studying mycorrhizal fungi in scrub ecosystems, relatively delicate ecosystems often threatened by development.
The U.S. Department of Agriculture describes mycorrhizal fungi as mutualists—fungi found on plants' roots, they extract carbon from the plant while helping to make phosphorous soluble and to deliver the plant soil nutrients and, possibly, water.
For Morawski, who came to Archbold to help figure out which direction she wants to pursue as a researcher, the experience has been rewarding.
"I literally googled post-bac ecology research and that was the first thing that came up," she says, describing how she found the Archbold Biological Station. "I wanted to be able to do research with just a bachelor's degree, which is kind of difficult to do. I wanted to help figure out whether I wanted a master's or a PhD and in what field. I thought this would be great exposure, and it has been."
The Archbold Biological Station was established as a not-for-profit research institution dedicated to researching the plants, animals, and environment of the Lake Wales Ridge area. The station has several kinds of habitats and, since its founding in 1941, researchers have identified on the property 21 species of amphibians, 27 fishes (there's a 90-acre lake), 44 mammals, 48 reptiles, 208 birds, and 593 vascular plants.
There are also more than 6,000 kinds of insects and other invertebrates, and it is home to 117 species of ants, the widest-known diversity of ants on a single North American site.
One factor in her winning an internship at the research station, Morawski is certain, is her work at American University. As a student in Professor Kiho Kim's environmental issues seminar, she coauthored a paper with Kim that was recently published in the Journal of Hunger & Environmental Nutrition. The paper gave the first hard evidence that eliminating serving trays from the university's main dining hall substantially reduced food waste and energy use.
That's an extraordinary accomplishment for any student, particularly an undergraduate.
The paper, which has generated a good deal of buzz online, showed that after surveying 360 diners over six days in February through March 2009, removing trays from the dining hall reduced food waste by 32 percent and dish use by 27 percent.
Soon after the class finished its study, AU removed most trays from its main dining hall. The Tenley campus dining hall later followed suit.
"Kiho was my academic mentor," Morawski says. "I think he was trying to give me opportunities to learn how to write a paper that was intended for publication in a journal . . . He wanted me to calculate the carbon footprint of how much energy would be saved by removing the trays from TDR (Terrace Dining Room)."
Those calculations didn't make the final draft, but Morawski was also tasked with examining trends with tray use and the research conducted by schools that had gone trayless.
"I found very few studies, actually, that have a good experimental design," she recalls. "There had been a lot of schools that were going trayless because there were claims out there that it saved food and reduced food waste, but there was not much actual scientific evidence."
So has coming to Archbold brought Morawski any closer to deciding her future direction as a researcher?
Being at Archbold "has confirmed to me that I do want to work in something that involves plant science," Morawski says. "Also, it has proven to me that I can't have an office job. I just hate being inside all day. Working outside has been the best thing that's happened to me. I love my job so much."