Social Sciences
AU Students Win Regional District Fed Challenge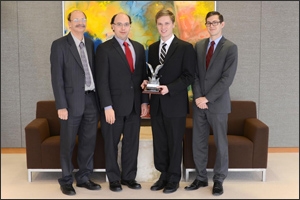 For the second year, a team of AU students won the rigorous district Fed Challenge, which pits undergraduate teams from around the region against one another to analyze the current U.S. economic situation and make recommendations on monetary policy. The first round was held at a branch office of the Richmond Federal Reserve district in Baltimore, Maryland, where the AU team competed against members from seven other schools. Five of the 12 Federal Reserve districts in the U.S. host the competition, and the number of schools that participates hovers around 40 in the Richmond district alone, making for some stiff competition.  
The team was made up of senior economics students Alex Adamczyk, Kevin Kurtz, and Charles Bilyue and was coached by Department of Economics professor Evan Kraft. The team members were pulled from volunteers in Economics 480, a capstone seminar for seniors majoring in economics. "For the macroeconomics section, which is related to the state of the whole economy, it seemed natural to incorporate the challenge into the course by asking students to participate," Kraft says. "And these students took the ball and ran with it all the way."  
To compete, students had to create a 15-minute PowerPoint presentation on their findings regarding the U.S. economy and their recommendations for future policy. There was also a question-and-answer period, which is by far the hardest part, according to Kraft. Each team presented alone, giving them no chance to size up their opponents. The crowd they presented to was an intimidating one: The judges are staff members of the Federal Reserve System.  
Though the team did not advance to the national rounds, Kraft feels as though they have established a good tradition in the district set. Not just of winning, he says, but of being able to provide an important foundation of teamwork and hands-on learning in an environment where students get a close look at what working for the Fed is really like.  
"The ideas the students put forth are taken seriously by the judges," says Kraft. "It's a wonderful experience. We have a tremendous tradition going now, because the odds of winning twice in a row like we did are not that good. We'll see where we go next time."