Environment
Building a Sustainable Environment by Starting Small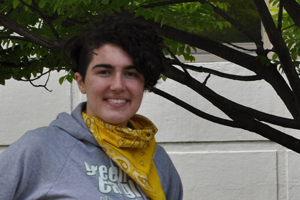 Starr Brainard, BA environmental studies '14, grew up in the center of St. Paul, Minnesota, but she spent vacations with her family in cabins in rural Minnesota and Montana. "Both places are so important to me," she says. "There's something spiritual about being in those green places, but at the same time, urban environments are really beautiful too. I want to find a way that I can integrate the two so that both environments are protected for future generations."

While she still has two years of undergrad ahead of her, she's interested in a career as an environmental landscape architect in order to preserve environments at both ends of the development spectrum. "In high school, I volunteered with a greening organization that restored landscapes that were overgrown with invasive species, and then here in D.C., I do the same thing with Casey Trees," says Brainard. "I also wanted to find the most sustainable landscaping measures possible as a result of my interest in environmental studies."
As part of her yearlong internship with AU's Office of Sustainability, she wrote a paper entitled "Rain Gardens and Permeable Pavement at AU," where she did a practical analysis of landscaping measures that could be used to reduce runoff and manage storm water on campus, particularly on the Quad. "Environmental landscaping isn't a normal undergraduate focus at AU, so I thought I'd use this project to really look at it," she says.
In her initial research on the state of the Quad, with the help of AU's landscape architect, she turned up some areas that needed improvement. "There isn't very good drainage on the Quad, which the landscape architect is very aware of," she explains. "When it rains, there's a lot of pooling, even on the grass, and it doesn't really go anywhere. That ultimately suggests that there's a lot running off into the street too."
Runoff is never a good thing—when it rains, oil and debris from streets can get washed into local waterways before the rainwater makes it to the sewers and through a water treatment plant. D.C. is particularly at risk because its sewer system was originally built for a smaller city. "We have a combined sewage system, and that means that runoff from the street is combined with house and business waste in the sewers before it's treated," says Brainard. "When this all flows together and a rain comes, the system overflows and goes straight into the Potomac and Anacostia."
To combat the runoff problem, at least on the Quad, Brainard looked into rain gardens and permeable pavements as environmentally friendly landscaping options for when the Quad is renovated in the coming years via the campus plan. "I wanted to have some very practical information that could help AU to make more sustainable choices," she says.
Rain gardens are generally placed in shallow depressions where water would naturally drain. They are set up with soil and plants with deep root systems that facilitate water absorption into the ground, which is then filtered through natural processes. Unfortunately, the Quad doesn't perform this task well at the moment. "The turf you see out there doesn't absorb that much, because the ground is really compressed and the roots are really shallow," Brainard explains.
Permeable pavement is a similar idea to rain gardens, except instead of plants to filter water, there is a hardtop with microscopic holes in it with layers of more permeable fill, like pebbles, underneath. "But permeable pavements are harder to maintain, and they get clogged," she says. "In my paper, I suggested that when pavements are renovated on the Quad, they are made to slope into the proposed rain gardens."
Brainard ended up submitting her final paper and its findings to the 22nd annual Robyn Rafferty Mathias Student Research Conference, and she shared a prize for the best poster by an undergraduate student in the sciences category.
She doesn't know if AU will actually take her suggestions into account, but through her research, she's seen it's definitely possible that these improvements could happen on campus in the future. In the meantime, she's hoping to make a larger mark on the environment by joining the Peace Corps after she graduates. "Landscape architecture is a local measure—it's very much right where you are—but I want to find a way that I can apply that to an international perspective," she says. "I want to find a way that I can help protect environments for future generations."