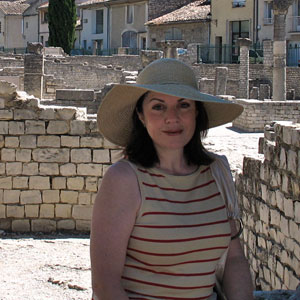 Deborah C. Payne
Associate Professor
Department of Literature
An expert in dramatic literature and theatre history, Professor Payne has published extensively on 17th and 18th-century drama and performance, writing on topics ranging from the Restoration actress to baroque opera. Currently she is completing a book entitled Patronage, Production, and Print: The Restoration Playwright in the Marketplace. In 2005 Professor Fisk published Four Restoration Libertine Plays (OUP), and in 2000 The Cambridge Companion to English Restoration Theatre (CUP). Professor Payne also does dramaturgical work for theatre companies in Washington, including the Shakespeare Theatre Company, Arena Stage, and Studio Theatre. Teaching interests include Restoration and 18th-century drama; Modern Drama; Shakespeare in Performance; and Ancient Greek and Roman Theatre, in addition to special topics, such as Theatre and Censorship.

Professor Payne has held research fellowships at the Huntington Library; the Folger Library; the William Andrews Clark Memorial Library; and UCLA. From 2002-2005 she was awarded an Exemplary Project Grant from the NEH, held in conjunction with the Shakespeare Theatre Company. In 1993 she was given the University Teaching Award.

Degrees

PhD, University of California, Los Angeles
MA, English, University of California Los Angeles
BA (Honors), English and Theatre, Loyola Marymount University
Loading ...

OFFICE

CAS - Literature
Battelle Tompkins - 218
FOR THE MEDIA

To request an interview for a
news story, call AU Communications
at 202-885-5950 or submit a request.
---
Teaching
Fall 2015

LIT-121 Rethinking Literature: Dangerous Stages

LIT-232 Shakespeare: Shakespeare in Performance

LIT-443 Adv Std in 20th Century Lit: Mod. Drama&Politics of Emotion
AU Expert
Area of Expertise: Seventeenth- and eighteenth-century theatre; theatre history; performance theory; Shakespeare in performance; dramaturgy; reading knowledge of French, Latin, and Spanish

Additional Information: Deborah Payne Fisk recently published Four Libertine Plays (Oxford, 2005) and is also the editor of The Cambridge Companion to English Restoration Theatre (2000). In the summer of 2005, Fisk concluded a three-year Exemplary Project Grant in conjunction with the Shakespeare Theatre, awarded by the National Endowment for the Humanities for $250,000.  Fisk is completing a book-length study of the theatrical marketplace during the late seventeenth century.
 
Media Relations
To request an interview please call AU Media Relations at 202-885-5950 or submit an interview request form.