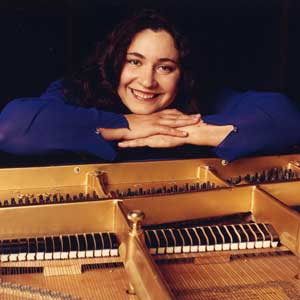 Yuliya Gorenman
Musician in Residence
Department of Performing Arts
Additional Positions at AU

Musician-In-Residence

A piano instructor in the applied music program, award-winning Russian-born American pianist Yuliya Gorenman has been called a "pianist without fear." Now firmly established in her performing career, she first achieved international acclaim in 1995 at the Queen Elisabeth Competition in Belgium. Born in Odessa, Ukraine, raised in Kazakhstan, she shaped her style while attending the St. Petersburg Conservatory. After emigrating, she studied at the San Francisco Conservatory and the Peabody with Nathan Schwartz and Leon Fleischer. She is continually invited to perform throughout the US and Europe, earning praise for her artistry and virtuosity; many of her performances have been broadcast on television and radio. In the DC area she has performed at the Smithsonian, Kennedy Center, The Phillips Collection and with the National and Baltimore Symphonies. In a joint concert with Billy Joel at Tanglewood, she performed her arrangements of his classical compositions. She recorded all Beethoven Piano Concerti with the Bavarian Chamber Orchestra in Europe and is now recording all Beethoven piano sonatas in eight recitals at AU. Her most recent CD is "Yuliya Gorenman: Bach & Mozart."
Loading ...

OFFICE

CAS - Performing Arts
Katzen Arts Center - 114/1 FL
FOR THE MEDIA

To request an interview for a
news story, call AU Communications
at 202-885-5950 or submit a request.
Teaching
Fall 2015

MUS-021 Private Instrument Study: Piano

MUS-022 Private Instrument Study: Piano

MUS-121 Private Instrument/Vocal Study: Piano

MUS-122 Private Instrument/Vocal Study: Piano

MUS-334 Private Instrument/Vocal Study: Junior Recital, Piano

MUS-434 Private Instrument/Vocal Study: Senior Recital, Piano

MUS-791 Private Instrument/Vocal Study: Piano

MUS-792 Private Instrument/Vocal Study: Piano

PERF-111 Class Piano Level I
Spring 2016

MUS-021 Private Instrument Study: Piano

MUS-022 Private Instrument Study: Piano

MUS-121 Private Instrument/Vocal Study: Piano

MUS-122 Private Instrument/Vocal Study: Piano

MUS-334 Private Instrument/Vocal Study: Junior Recital, Piano

MUS-434 Private Instrument/Vocal Study: Senior Recital, Piano

MUS-791 Private Instrument/Vocal Study: Piano

MUS-792 Private Instrument/Vocal Study: Piano

PERF-111 Class Piano Level I

PERF-112 Class Piano Level II