On Campus
Department of Health Studies Launches Speakers Series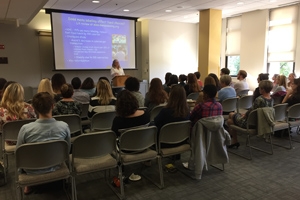 This fall the Department of Health Studies launched the DHS Speakers Series. Each month, we invite respected scholars in their field to speak at AU.  

In September we had Dr. Sherry Wallington from the Lombardi Comprehensive Cancer Center at Georgetown University Medical Center to speak about health disparities and cancer prevention.

In October, Dr. Margo Wootan spoke to faculty and students about the history of nutrition policy in the United States and the work that is involved with enacting such policies to improve the nutritional practices of Americans.

Dr. Wootan is the Director of Nutrition Policy for the Center for Science in the Public Interest (CSPI). She has led the National Alliance for Nutrition & Activity to advocate for requiring calorie labeling in fast-food restaurants as well as efforts to reduce the amount of junk food marketing toward children.

Dr. Wootan spoke about her leadership roles in revamping school lunch requirements which resulted in the passage of the Healthy, Hunger-Free Kids Act. She also described the decade-long efforts to remove trans fat from the food supply.

When it comes to nutrition information, Dr. Wootan explained, weeding through the abundance of misinformation out there is a difficult task for the everyday consumer.

DHS faculty member Allison Tepper, RD, reflected on the presentation and the importance of nutrition policy in the health promotion field. "I found it quite interesting," Tepper said, "I did food package labeling for my thesis so I was intrigued to learn about the food policies that are allowed in grocery stores and the severe confusion it can cause to consumers. It is important to educate the public about all of the misconceptions regarding nutrition out there."

Dr. Wootan ended the presentation by looking ahead at the policies being implemented in 2017, including the requirement of calorie labeling in more popular public places, such as supermarkets and movie theaters.

Those interested in learning more about the work that CSPI and Dr. Wootan do can visit their website at cspinet.org.