Internships
Student Unpacks Story of Holocaust Survivor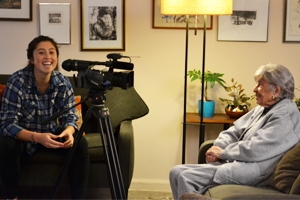 Below is a first person account from Dean's Intern Emma Jackson.

After going through fingerprinting, background checks, and a lengthy government shutdown I was excited to finally start work on a video project for a new exhibition at the Smithsonian's National Museum of American History.

The exhibition, "Camilla's Purse," examines the life of Holocaust survivor, Camilla Gottlieb through a display of letters, official documents and personal possessions collected by Gottlieb in a black leather purse. It tells Gottlieb's story of imprisonment, survival in Europe, and ultimately of a new life in the United States.
 
Gottlieb's grandson found the trunk after her death, revealing a part of his grandmother's past he never knew. My role was to collect the voices and stories of three people connected with Gottlieb, to help paint a better picture of her life.

A Lesson in Storytelling

Erna Frischer, a fellow Austrian-Jew and a 94-year-old holocaust survivor, was best friends with Gottlieb's only daughter. The curators and I hoped she would be able to provide some additional insight into the personal and emotional details of Gottlieb's life. We made arrangements to meet Gottlieb in her Queens, N.Y. apartment.

The shoot wasn't going to be easy. Along with the challenge of setting up a studio inside an unfamiliar apartment, our return flight was scheduled for later the same day. And I was worried we would have to break often to keep Frischer from getting too tired.

Turns out Frischer had more energy than I did. She's fiery and quick. I completely underestimated her, and left in awe of her powerful personality. She even brought out photos and letters she saved from wartime. The papers, worn and fragile, were incredible to see.

Heading back to D.C. nearly 12 hours later, I was reminded of why I love video journalism and documentary film making so much. The chance to learn about and capture others' stories is what really continues to inspire and motivate me.

Filling in the Pieces

Next I met with Robert Bodansky, Gottlieb's grandson. He recounted memories of his grandmother and walked us through his discovery of the contents of the purse—and his realization of how important these documents were.

I also met with Gerry Liebenau, the man who translated all of Gottlieb's documents from German to English for the exhibit. The job was especially meaningful for him—having left Germany, as a boy himself, to escape the Nazis. He strongly identified with Gottlieb's story.

After accumulating hours of footage, I was finally able to begin post-production. The editing process was lengthy, extending through mid-January.

The final products include the main video running on loop at the exhibit kiosk, and two shorter supplemental videos to appear on the Smithsonian Museum of American History website.

The project was a huge do-it-yourself learning experience for me. I saw my internship as an opportunity to produce, film, and edit a video for a client. Throughout the process, SOC professors and the Dean's Internship were a huge help. I frequently met with Prof. Larry Kirkman, who reviewed my material and offered his advice. Prof. Larry Engel provided quick tips on lighting, and chatting with Prof. Maggie Stogner helped with ideas to make oral storytelling videos more visually interesting.

"Camilla's Purse" opens Jan. 24 and runs through Sunday, May 4.