International
New Israel Study Travel Awards for Students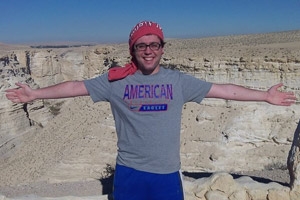 Born in Brooklyn, New York to parents originally from the northern Israeli city of Tzfat, (Safed), Lorry Segal and her sister, Frieda Segal Raben, grew up in a Zionist, Orthodox household that never forgot their origins. As children, they would often stand on street corners with blue boxes from the Jewish National Fund asking people passing by to contribute money to the development of the Jewish homeland. At that time, the country was called Palestine and under the British Mandate. However, It was not until 1959, eleven years after the founding of the State of Israel, that Lorry and Frieda would travel there to meet for the first time, aunts, uncles and cousins and especially their grandmother who lived in Tzfat. While this would be Lorry's only trip to Israel, she never forgot the beauty and splendor of the new nation. It was the memories of this trip to Israel that they shared for many years.
Frieda, and her husband Milton, made many trips to Israel in later years and were so smitten by the country, that they made aliyah in 1996 and lived there for several years. Frieda believes that being in Israel is the only way to understand and appreciate its historical roots, and its modern day culture. Therefore, she and her husband, Milton, have established the Lorry Segal Israel Grant Travel Grant through the Center for Israel Studies in memory of Frieda's sister Lorry. The grant will enable American University students to pursue their academic interests and hopefully, fall in love with the country as she and her husband did.
"CIS is grateful that the Rabens have established this award fund to support AU students studying in Israel. Study abroad enhances how students from different countries and cultures view the world and understand the relationship between the US and Israel," said Michael Brenner, the Seymour and Lillian Abensohn Chair in Israel Studies. American University and the Center for Israel Studies offer several opportunities to study in Israel, both through the AU Abroad program and through trips with AU faculty.
The first Lorry Segal Israel Travel Awards will be available for American University students studying in Israel during the 2015-16 academic year. Click here to apply for this competitive award. For questions or to contribute to the Lorry Segal Travel Grant fund, please contact Laura Cutler, cutler@american.edu.