Katzen and AU Museum Rentals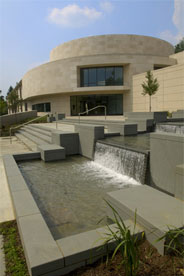 The Katzen Art Center's graceful facilities offer a unique Washington locale for conventions, training, weddings, film, and live performance. Beyond a gorgeous setting, the Katzen offers:

Multiple Event Spaces, from performance and meeting spaces to computerized classrooms—take a Photo Tour below.

Convenient location with abundant downstairs parking.

Flexible capabilities, including state-of-the-art AV technology and online ticketing, plus our nearby sister facility, the Greenberg Theatre.

Standard Services
All Katzen facilities rentals include the following:
Building access from 8:00 am to midnight
Access to corridors, dressing rooms, lobby, stage, audience area
HVAC, basic custodial, open/close of facilities
House audio system with basic announce and playback(1 microphone, plus CD, MD, and cassette playback)
House ticketing system
Consultation with production staff
Standard orchestra chairs, music stands, stand lights, conductor's podium
 Please note:
For alcohol to be served at events a formal request process must be followed as specified in the AU Alcohol Policy form.
Rentals also require insurance—please see the Rental Agreement, Section 10, for details.
Additional services can be arranged through consultation with our staff. Please contact us at 202-885-3884 or AUarts@american.edu for more information.
To confer immediately with our staff or to arrange a visit or tour, please contact:
Lisa Ager,
Katzen Facilities Manager
202-885-3884
AUarts@american.edu
Katzen Photos
Parking from Massachussetts Avenue
Rotunda Evening
Katzen Lit Blue for Autism Awareness
Plaza toward Museum
Museum from Ward Circle
Museum Portico Evening
Portico toward Main Campus
Parking & Plaza
Rotunda Entrance