On Campus
AU Honors MLK with Week of Events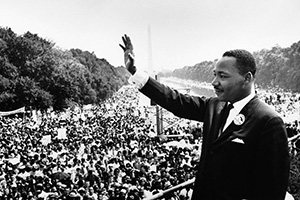 American University is hosting a week of events to honor the legacy of the late Dr. Martin Luther King Jr. beginning Monday, January 20, and concluding Tuesday, January 28. Faculty members, students and staff from across the university have organized or will participate in these 13 events. 
Theatre professor Caleen Jennings has been involved with Martin Luther King Jr. events at AU for the past 24 years. This year, she is writing an original presentation, called "MLK Unspoken!," based on a survey of more than 100 students that she completed regarding what the observed holiday means to them, if anything. "This college generation grew up with this holiday, and mine didn't," says Jennings. "I was interested in how meaningful it is to them—is it just something that comes up like Presidents Day? Is there any sense of what King stood for, and is it meaningful to them?" 
Jennings chose the title to reflect the attitude of many young people toward the holiday. "I chose the word 'unspoken' because young people are sometimes afraid to say, I don't get it, this is boring, we're beyond that," she says. "I wanted to get authentic voices." 
While Jennings hopes that people will be energized by what contemporary students are wrestling with when it comes to this holiday, she's also hoping it's a bit lighthearted. "I'm hoping to capture some of the humor along with the controversial aspects," she says. 
Literature professors Kyle Dargan and Keith Leonard will host a program called "Art for the People" for the week's celebration, which will examine the role of artists who claimed to be the voice of the Civil Rights Movement. "When you consider the movement, I think you should consider the music that buoyed and drove the hearts in that movement: freedom songs, gospel, soul, even adaptations of the spirituals that enslaved Africans sang," says Dargan. "All that music inspired those who acted." 
Dargan chose to participate during this week because of a personal connection to Dr. King. "My grandmother—who was the first African American female detective in Newark, New Jersey—actually guarded Coretta Scott King during her stop in Newark when she was touring after Dr. King's assassination," he says. 
Each year, he makes a point to walk to the Lincoln Memorial on the holiday to reflect on history. He's hoping that participating in AU's week of events will spur collective reflection. "We should be thinking about how the work of the civil rights leaders—those lauded and those unsung—informs our purpose of benefiting people's lives," says Dargan. 
The gospel concert and candlelight vigil, which is scheduled for the evening of January 22—the same day as "Art for the People"—will bring some of the songs discussed during Dargan's and Leonard's event to life. Professor Sylstea Sledge, a musician in residence, and the AU Gospel Choir will perform songs of the Civil Rights Movement at Kay Spiritual Life Center. 
Sociology professor Bette Dickerson, along with Washington College of Law librarian Renee Cuthbert, is organizing the "Women in the Civil Rights Movement" event, where a group of scholarly panelists will discuss these women's accomplishments and their impact then and now. They will also talk about why the Jewish community got involved in the movement. "Women's activism during the Civil Rights Movement is the reason that women today have a voice and are uniquely positioned as phenomenal leaders," says Dickerson. "Pulling together a panel that consists of some women that were engaged in the Civil Rights Movement themselves or that have the same or similar passion that the women of the movement had is important to share with the AU community as it addresses its own issues of diversity and inclusion." 
Dickerson believes it's important to examine all aspects of the movement, even those that aren't always at the forefront of discussion. "As educators, it is critical that we revisit the movement for every generation to come, because there are critical lessons to be learned for addressing today's issues," she says. 
Clarence Lusane, a professor in the School of International Service, is using another civil rights leader as a lens to examine Martin Luther King Jr. His event, "Mandela, Apartheid and the Civil Rights Movement," will look at the life of former South African President Nelson Mandela to compare the movements in South Africa and the United States. "Mandela and King saw their struggles as united and similar in important ways," he says. "Dr. King called for an end to apartheid and the release of Nelson Mandela. Mandela always acknowledged the inspiration that King and the Civil Rights Movement gave to South African activists and the African National Congress in particular." In addition, both King and Mandela were recipients of the Nobel Peace Prize.
As an international relations professor, Lusane considers it a goal of his to link issues and concerns in the United States with similar ones around the world. Lusane's research and scholarly focus has been on global human rights and racial and ethnic equality for more than 30 years. "In the more than 60 countries where I have traveled, Dr. King has always had a presence, and I would dare say so has Mandela," he says. "I decided to organize this event last summer when it became clear that President Mandela was in the last period of his life." He also worked with the South African embassy to help organize the memorial held at the National Cathedral in December after Mandela's passing. 
He sees the week as a real reflection of what AU is about. "This event is important, in conjunction with the other MLK activities, in continuing to promote the social justice ethos that American University is known for," says Lusane. "It is important that our students want to have a positive impact on the world. Through an examination of King's life as well as participating in activities and events around the city, MLK Week is a unique and invaluable opportunity for AU students to engage and bridge the divide between studying and doing." 
For a complete list of 2014 events, please visit the Center for Community Engagement and Service's website.