Mathematics
Professor Invents New Approach to Electronic Communication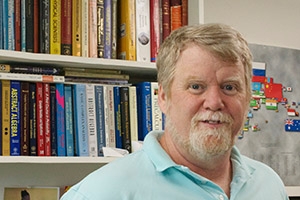 One day, Stephen Casey was sitting at his kitchen table while his teenaged daughter and her 11 friends sat in a different room, chatting away and using their cellphones.
"I was thinking that there's no way, with the way that we think about communication, that we'll keep up with that generation," the mathematics and statistics professor said. "Because what happens is that they talk in these incredibly rapid bursts of communication. It is also rich, multilayered communication." 
Casey said this "art" of allowing information to be communicated electronically is called signal processing. 
"I was sitting at the kitchen table, in essence hiding. I was the adult in charge at this time, and I was trying to let them do their thing and just trying to remain invisible," he added, "while thinking about this signal processing innovation."  
What resulted from that day was an idea that led to a $145,537 award from the Air Force Office of Scientific Research for a three-year project called "New Techniques in Time Frequency Analysis: Adaptive Band, Ultra Band and Multi-Rate Signal Processing," which led to an invention that now has a pending patent. 
"My invention is to take blocks of the signal and project that into what is called frequency space," he said. "The method that I invented is called the projection method." 
Casey already has two provisional patents for this method and said he is currently under review for a full patent.  
When he applied for the Air Force Office of Scientific Research award, he described all the different ways his method could provide solutions for the different problems the Air Force works on.  
"One is a very interesting phenomenon called ultra wide band communication," Casey said. "This came about because of high-level radar and sonar signal processing, which obviously the Air Force is interested in." 
Casey explained ultra wide band communication through a civilian use, referring to the earthquake that shook the Washington, D.C., area in the late summer of 2011. 
"We noticed that the first thing to go down was cellphone networks," he said. "So the projection method actually solves the post-earthquake communication problem. Because if we communicated with our cellphones via ultra wide ban communication and used the projection method, we could layer the communications in hierarchy so that the low-level communication would get through."  
Casey said text messages would go through first, followed by voice messages, then followed by video uploads or Facebook statuses about where a person was when the earthquake happened. The projection method is also energy efficient, Casey said, because when there is less complicated communication, it operates more efficiently and at lower energy levels. In the three years that Casey has to work on his idea with the award money, he said he will continue to write papers and think about a few other ideas that branch off of his projection method.
"I am amazed at how useful and how interesting mathematics is," he said. "Even though I've been teaching for 25 years, I still feel like a student. I'm just very excited and enthused by the wonderful collection of things I get to work on, and I am thankful for having the opportunity to teach the great students we have in the AU Mathematics and Statistics Department."