Arts
Program Choices Drive Vibrant Arts Organizations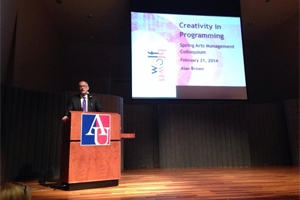 What is it that truly connects an arts organization to a community? And how does that organization find relevance in its community so that audiences and patrons remain connected to its art in their daily lives? Alan Brown, researcher and consultant in nonprofit arts, believes the answers lie in an organization's program choices. "The heart and core of an arts organization is its capacity to bring forth interesting, worthwhile, and imaginative programming. Everything else develops around this," Brown says. "It's truly an arts organization's most essential and critical function."
Brown addressed these questions, among others, at the Arts Management Spring Colloquium on February 24. Entitled "Artistic Vibrancy and Creativity in Programming," the colloquium brought together arts management faculty, students, and professionals to discuss the importance of forming diverse artistic programming—a process Brown believes creates vibrant organizations. "Through my lecture, I hope I've encouraged students and faculty to think about exactly what artistic vibrancy is, why it is important to talk about, and how it might vary from organization to organization," says Brown.
In his presentation, Brown pointed out that it has become more and more difficult to be an effective curator—an individual who selects artists and puts together artistic programs. Though this job has become more challenging, it has also become more essential in connecting an organization to its public. "Arts organizations now are increasingly expected to be embedded in their communities in ways that create public value," Brown says. "In today's world, you also have to be a diagnostician of a community; you need to understand its needs in order to apply your artistic vision effectively. Most great curators are architects of impact, not just curators of art."
One reason selecting engaging and relevant artistic programs has become more difficult is the increased diversification of the American population. The public now has more diverse cultural tastes than ever before. "For more and more arts organizations, there is this pressure to diversify their programming because the public itself is diversifying," Brown says.
This pressure has become a major source of tension for many arts organizations. "It's causing a lot of stress because organizations get stuck in programming formulas that are decades old, and many organizations are not having a conversation about how to develop new product lines," says Brown. "Breaking free of that construct and speaking to a more diverse public is very difficult. The ecology of experimentation is not producing change fast enough."
Adding to the challenge of program diversification is the fact that most arts organizations don't want to have the conversation at all. "Generally in our field, there is not a lot of dialogue about artistic core," Brown says. "It's not an easy discussion to have. Funders are sensitive because they don't want to influence programming for fear of being branded as manipulative or coercive. Artistic directors shy away from it because they don't want the board looking at their creative process."
One solution Brown proposes is a shift in focus and responsibility at the governance level. Though he realizes involving boards in the programming process is controversial because traditionally this has been a sole responsibility of the artistic staff, Brown believes the board should take an active role in determining overall goals of programming choices. "I don't think the board should be involved with program decision making, but I do think they need to have a policy about outcomes," says Brown. "To what ends do we offer programs? What are we trying to accomplish in our community? If there's a policy frame around programming, then the artistic staff can use this as a guide in making their program decisions."
By encouraging conversations about outcomes between the artistic staff and the board, arts organizations foster a more integrated and unified approach towards programming. "The absence of this dialogue about outcomes is where I think a lot of arts groups and artistic directors have problems," Brown says. "Unless there's a high level programming conversation happening, when ticket sales go south, someone loses their job because there's no integration of board policy and program objectives. This approach makes it everyone's job to own programming risks because it's part of the policy."
Moving forward, Brown hopes to see this shift of governance focus, but he also hopes to see arts organizations develop what he calls "ecological thinking." "I hope arts managers and artists will embrace this idea of seeing themselves as a part of this larger ecology of interdependent organizations and people," Brown says. "I think this encourages everyone to start acting like their collective well-being depends on the health of the overall ecology, and not just their own organizations. We need to remember we are all in this together."