On Campus
Reinstating Transgression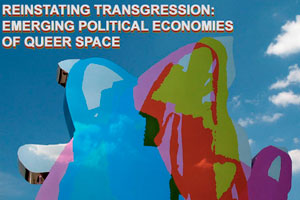 When the Association of American Geographers's week-long annual meeting convenes in D.C. this April, it will feature a host of sessions on socially-progressive topics, from geography and human rights to diversity enhancement. But the topic of queer geography--the exploration of the relationship between political economy, sexuality, and space--is largely absent from the schedule.
"Reinstating Transgression: Emerging Political Economies of Queer Space" is designed to fill this gap. On April 17-18, this Department of Anthropology conference will feature at least 30 presenters from five different nations to discuss the intersections of sexuality and spatial practice. "We want to start a conversation that will think about space, place, and location from nontraditional points of view," says Bill Leap, professor and department chair.
These intersections between sexuality and spatial practice are largely influenced by what Leap calls "forms of visibility," or the level of visibility that a given culture affords its sexual minorities within its public space. "For example, in Central America, the general consensus is that, if you're gay and you keep a low public profile, you won't get hurt," he explains. "But, if you go out and carry on like a maricón [a flamboyant man], you're going to be treated like one."
This tension between public face and private practice ripples out into local political economies in communities across the globe--from Honduras and China to Vancouver and Washington, D.C. "A lot of work on sexual geography ignores the dimensions of economics and class, production and politics," Leap says. "Our speakers are very much aware of the fact that sexuality is tied to political economy."
The conference will feature two keynote speakers. On Saturday, April 17, Jin Haritaworn of the Helsinki Collegium for Advanced Studies will present "Queer Lovers and Hateful Others: Political and Cultural Economies of Sexuality, Race, and Gender in Gentrifying Berlin." The following evening, Rosemary Hennessy, English professor and director of the Center for the Study of Women, Gender, and Sexuality at Rice University, will present "Bio-deregulation: Bodies, Jeans, and Justice."
The conference will be paired with the department's annual Lavender Languages & Linguistics Conference, which will be held April 16-17. For the past 17 years, the Lavender Languages & Linguistics Conferences have explored the sociopolitical intersections of language and sexuality. This year, Leap says, it will focus on "issues of visibility and silence: the ways people use language to claim visibility or maintain silence about their sexuality and identity."
For more information or to register for "Reinstating Transgression," please visit: www.american.edu/cas/transgression. For information and registration for the Lavender Languages & Linguistics Conference, please visit: www.american.edu/lavenderlanguages.