Education
Supporting Innovation in Student Teachers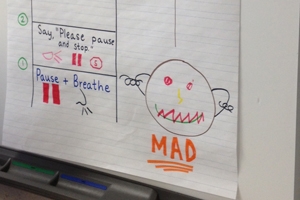 Student teaching represents the threshold between being an education student and a career as a teacher. After years of classes in educational theory and methods and smaller field experiences, students are placed in a classroom full time alongside a cooperating teacher to gain the skills they need to be successful in their profession. The School of Education, Teaching, and Health in AU's College of Arts and Sciences works to ensure that education students are prepared through coursework, and also allows them to pursue opportunities to innovate and lead while they are still in training.
Ariel Villano '13 identified a problem in the school where she was doing her student teaching and devised a system to resolve this challenge with support from SETH's Lynne Ganek Grant for Innovation in Education.
"I'm a firm believer that, as educators, we need to focus on developing the whole person," says Villano. "Of course, it is important that students leave our classrooms with solid reading, writing, and mathematics skills. But, it is just as important that our students learn and practice skills related to their social, emotional, and physical health—especially in the primary grades."
Villano and her cooperating teacher observed that many of their students were either homeless, had an incarcerated parent, or both, and were not learning many of these skills at home. In their school, located in southeast D.C., 99 percent of students qualify for free and reduced meals, an indicator of poverty. Villano decided to apply for the Ganek grant to create an emotional health and life skills curriculum to help students think about some of these issues they may not otherwise be exposed to.
"In the modern world of education, with such heavy emphasis on academic achievement and its measurement, there unfortunately isn't always time to explicitly teach emotional health and life skills," she says. "This grant was an opportunity to do that."
The Ganek Family Student Teacher Mini-Grants program was established in 2007 by longtime AU student teacher supervisor and instructor Lynne Ganek to allow student teachers to test out new methodologies and innovative lesson ideas with their cooperating teachers in D.C. area classrooms. By encouraging student teachers to try new methods, Ganek hoped to encourage teachers in training to create projects they and their peers could use when in the classroom full time.
"Ariel's Ganek project exemplifies the type of problem solving that we want our teachers to be able to do upon graduating," says Julie Sara Boyd, director of teacher education. "She saw a problem and recognized that 'traditional' teaching and learning would not be a solution."
Prior to implementing their project, Villano worked with her cooperating teacher to assess their students' needs. "We really paid attention to their needs—we noted what conflicts they had in the classroom, on the playground, and at lunch and how the students tended to solve these conflicts," says Villano. "We used these observations to drive the trajectory of our curriculum."
From teaching her students how to handle anger effectively to reacting appropriately when someone was bothering them, Villano's project challenged students to learn about ways to control themselves and their emotions. "We wanted the students to walk away from the project with more than just a factual understanding of a new topic; we wanted them to walk away with skills that they could use for years to come."
One way Villano did this was through the "chill-out chair."
"One of our students would engage in either physical violence or shouting every 20 minutes during literacy time," says Villano. "But after we worked on these self-control techniques with him, he became very good at going to the chill-out chair located in a different part of the classroom and returning calmer and ready to handle the situation differently."
The second aspect of the project allowed Villano to set up a mentorship program between her students and AU volunteers. Through letters and in-person visits, these mentors communicated with students about the challenges they were facing as well as their normal everyday activities. According to Villano, having a new person in their lives as a mentor and friend gave students an alternative way to express their feelings and emotions.
"Many of the students in our classroom would quickly resort to physical violence or shouting when they were angry or faced with a conflict," says Villano. "I wanted the students to learn that there were other ways of handling these emotions—ways that left them feeling happier and solved their problems more effectively."
"It took me many years of teaching to be able to accomplish what Ariel did in one semester," says Boyd. "The Ganek Award allows for this to happen."
For Villano, education is about more than simply instruction. "All children, regardless of their race, socioeconomic status, or zip code, deserve a free education of exceptional quality," she says. "It is our responsibility as a society to provide that for all of our youth, and I want to be a part of that movement."