Achievements
Brimming with Illusions, AU Takes Home Second Place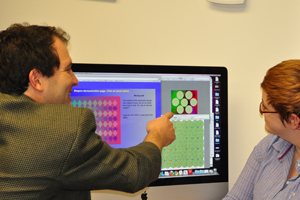 Psychology professor Arthur Shapiro has done it again. This year Shapiro and his team, comprised of Erica Dixon, a doctoral student in the behavior, cognition, and neuroscience program, and professor Kai Hamburger from the University of Giessen in Germany, placed second in the Neural Correlate Society's seventh annual Best Illusion of the Year Contest for their illusion "Grouping by Contrast."

"Grouping by Contrast" was selected by judges as one of 10 finalists out of 170 entries submitted. Dixon presented the illusion on behalf of her teammates in front of an international audience at the Naples Philharmonic Center for the Arts in Naples, Florida in May.

The Neural Correlate Society describes the contest as a "celebration of the ingenuity and creativity of the world's premier visual illusion research community," according to their website. Shapiro agrees, commending many of his colleagues for the beautiful and brilliant illusions submitted this year. "It's an amazing exhibit of creativity in my field, and I'm very proud to be part of this group," he says.

Shapiro's team's illusion demonstrated the powerful nature of how the brain can perceive and group the element of contrast. The illusion features four circles of alternating light. The top two circles are in sync with each other, lighting up white, while the bottom two are in sync, lighting up black. The top and bottom circles continuously repeat the pattern back and forth, changing from white to black. This is done against a gray backdrop, clearly showing the alternating colors.

However, once the four circles are placed on a split screen, with half the circles against a yellow backdrop, and the other half against a black backdrop, the circles begin to appear to light up in sync not by top and bottom, but diagonally.

Shapiro says that this is due to the way our brains organize what we see. "Things which are similar group together, things which are in common regions can group together, and things which are close together tend to group together. What the illusion shows is that the contrast signal—the change in contrast—is actually a very powerful grouping cue, and it's unexpected, so it's classified as an illusion."

His interest in how the brain organizes and groups contrast has been active since 2003 and 2004, when he first created a visual effect representing this; however, it was Dixon who wanted to pursue the concept in the competition and presented Shapiro's illusion before a panel of judges.

The award marks Shapiro's fourth time receiving an illusion award, taking home first place in both 2005 and 2009. Because he's won the award in previous contests, the Neural Correlate Society has asked him in years past to serve on the panel of judges.

This year marks an especially triumphant success for Shapiro, as he had two illusions placed in the top ten finalists. Along with "Grouping by Contrast," he was also responsible for the "Exchange of Features, Textures and Faces" illusion with another colleague, professor Gideon Caplovitz from the University of Nevada, Reno.

This illusion explores how one or more objects moving toward each other can appear to swap characteristics such as color and other features as they bump into or pass each other. The illusion consisted of three demonstrations, with one involving Lego Harry Potter and Dobby action figures moving across Lego grass until the two meet and return to their starting positions.  If an observer is not looking directly at the meeting point, Harry and Dobby will appear to pass through each other instead of bumping into each other and returning to their starting positions.

Shapiro's creativity with his demonstrations never ceases, as he keeps his mind fresh with many projects on varied topics. He's recently been awarded a grant from the National Institutes of Health and is dappling in research involving anything from baseball to camouflage. Needless to say, Shapiro is brimming with ideas and creativity that he hopes to present in next year's contest if he's not asked to judge.

"There are one or two [illusions] that I really want to present, and there are a couple that I think are really good, so we'll see. I always think the next year will be even better than the last," he says.

The Best Illusion of the Year Website has both of Shapiro's illusions on display with the other the top 10 finalists.