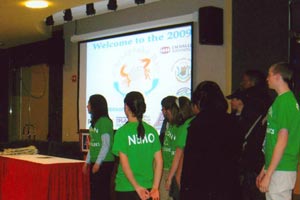 On Saturday, March 6, American University will once again host the Chesapeake Bay Bowl, a regional competition in the National Ocean Sciences Bowl. Faculty members from the biology and environmental science departments have volunteered to judge the competition in the past and even coach a local high school team.  
Composed of high school teams from across the Mid-Atlantic region, the Chesapeake Bay Bowl is the regional competition for the National Ocean Sciences Bowl (NOSB). Sponsored by the non-profit Consortium for Ocean Leadership, NOSB is a national academic competition on topics related to ocean sciences.
AU has hosted the regional competition multiple times in the past with faculty members acting as judges and moderators alongside science professionals from the greater D.C. area. In addition, Kiho Kim, professor and chair of the environmental science department, has coached Woodrow Wilson Senior High School's team for the past four years and has been instrumental in establishing a Washington, D.C., presence among the competitors.
Hosting the event also gives unique visibility to the College. "It shows that we're engaged with the community, that we support these sorts of opportunities and also that there's a vibrant science program here that some of the students may be interested in looking further into," Kim says.