Science
National Institutes of Health Research Grant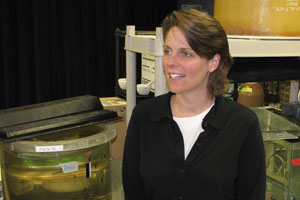 Victoria Connaughton, biology department professor and chair, is contributing to a research project that recently received a $427, 758 grant from the National Institutes of Health. Connaughton is working on this project with several colleagues from the University of Wisconsin-Milwaukee.
The research funded by the grant examines the influence of glutathione (GSH)-related genes on the effects of methylmercury, an environmental pollutant that can cause neurological problems in those exposed to it. Connaughton and her colleagues from Wisconsin recently published a paper outlining the effects of methylmercury on the visual behavior of zebrafish. The forthcoming research funded by the grant will build on the findings from this paper.
Research will be conducted both at the University of Wisconsin-Milwaukee and at AU, with $33,445 of the grant specifically awarded to fund the portion of the research done by Connaughton at AU. Connaughton's colleagues in Wisconsin will generate transgenic zebrafish embryos that express the human alleles. These fish will then be exposed to methylmercury and allowed to mature to adulthood.Adults will then be tested to determine if the expression of human GSH-related genes in zebrafish increases susceptibility to developmental exposure to methylmercury. Detrimental effects caused by methylmercury will be determined by examining changes to their visual system.
"For this specific project, my colleagues at UW-Milwaukee will express the human genes in zebrafish and perform the initial experiments examining visual behaviors," says Connaughton. "Once these experiments are finished, I will examine the activity of retinal cells to determine if their activity has changed."
Because the zebrafish is a model system for vertebrates, the results from the experiment will potentially shed light on the effects of methylmercury-exposure in humans and other animals.
Connaughton's lab is also conducting ongoing research examining zebrafish for changes in the retina caused by high blood glucose levels, identifying cell types in the eyes of cave fish, examining changes in retinal synaptic structure due to abnormal light levels, and determining factors that may effect growth and development of larval zebrafish.