Science
Girard Named 2009 Franklin Fellow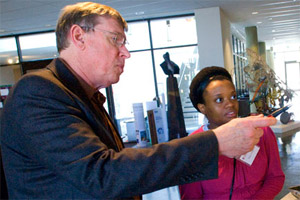 James Girard, professor in the department of chemistry, has been named a 2009 Franklin Fellow. In this year-long fellowship, he will serve as a science advisor to the U.S. Department of State. 

Girard is a specialist in analytical chemistry who has directed research projects used to develop methods to analyze environmental pollutants in soil and water. At AU, he teaches analytical, environmental, and forensic chemistry, as well as chemistry for non-science majors. He is the author of a textbook for environmental and chemistry students, Principles of Environmental Chemistry, and Criminalistics: Forensic Science and Crime, a forensic science textbook.
Sponsored by the U.S. Department of State, the Franklin Fellows program is an executive development vehicle designed to promote professionals' public service work. Franklin Fellows work on global issues of vital importance to the United States, and they may collaborate with government entities, including the White House, Congress, and the Department of Defense.