Arts
Spring Exhibits at the AU Museum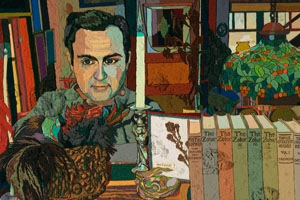 Exhibits at the American University Museum at the Katzen Arts Center this spring showcase the diversity of American and global artists while encouraging viewers to contemplate past events and contemporary times.
Artistic visionaries and the Beat Generation
An Opening of the Field: Jess, Robert Duncan, and Their Circle, showing Saturday, April 26 through Sunday, Aug. 17, features work by Jess Collins, known simply as Jess, and his partner, the poet Robert Duncan. Soon after meeting in San Francisco in the early 1950's, they began both a romantic and professional partnership that lasted until Duncan's death. They merged their personal and artistic lives by exploring their mutual interest in cultural mythologies, transformative narrative, and the appropriation of images. Jess's collages and drawings were often published to accompany Duncan's poems and essays. Duncan's writings and ideas in turn made their way into Jess's dense and allusive works. The couple's gatherings at their San Francisco home served as a salon and gallery space for their artist friends.
This exhibition looks at Jess's and Duncan's influence and unique position as precursors of Postmodernism and will present works by the couple, along with a selection of works by the couple's artist friends.
Commenting on the show, AU Museum Director and Curator Jack Rasmussen observed: "The Beat Generation is the antidote to our increasingly monetized contemporary art world: more transformative rather than strategic, more collaborative than entrepreneurial."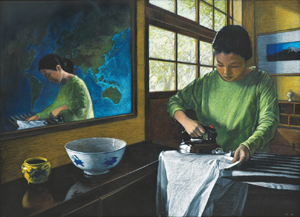 Mixed Media Exhibit Muses on Multi-cultural Identities
Double Mirror, showing Tuesday, April 1, through June 1, features the work of 30 Korean and Korean-American artists. Paintings, drawings, photography, reliefs, video projection and other installations convey the complexity and richness of reflective processes of being a creative wanderer in the mainstream art world. Artworks also explore the challenges of being a minority or an outsider in the United States.
Outdoor Sculpture Showcases Washington, D.C. Artist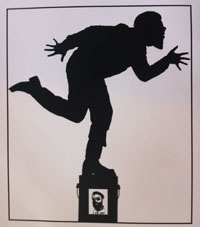 Mynd Alive / BK ADAMS•I AM ART features outdoor sculpture by BK ADAMS. The show runs from Tuesday, April 1, through Sunday, August 17. Of Adams' work, Washington Post journalist Michael O'Sullivan wrote that it "evoke[s] the squiggles of Jackson Pollock, the graffiti-like scribbles of Jean-Michel Basquiat and African figuration, all topped with a healthy sense of humor and play that keeps the work from seeming derivative."
Pause, Look and Listen in Unlikely Spaces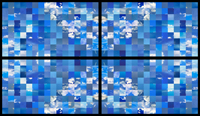 Brink and Boundary showing Tuesday, April 1 through Sunday August 17, invites viewers to experience how spaces often overlooked and forgotten in the Katzen Arts Center—its emergency stairwell, entryway, elevator and exterior—can transform with surprising and inventive installations. New and interactive technologies in sound and video redefine the boundaries of traditional exhibition spaces.  
Meet The Neighbors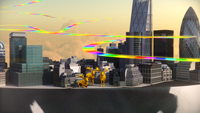 Curated by AU professors Zoë Charlton and Tim Doud, The Neighbors opens Tuesday, April 1, and runs through June 1. The show features painting, sculpture, video and installations by teaching artists from 13 Washington, D.C.-area universities and colleges.
Emerging Artists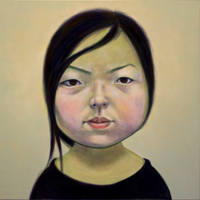 Students in pursuit of Masters of Fine Arts degrees at AU will showcase their work in two shows: Champion Divers opens to the public Saturday, April 5, and runs through April 20. The second show, Perambulators, opens Saturday, April 26, and runs through May 12. Both shows feature an exciting range of art including works in painting, sculpture, collage and material studies, photography and new media.