On Campus
Shakespeare resources available at AU Library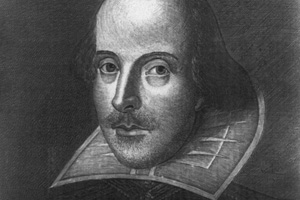 "William Shakespeare is the most widely admired and respected writer in the English language.... He has generated more works of criticism than any other writer, and he is still the most performed playwright in the world. He is also the most frequently quoted writer in the world and many of his new coinages have passed into the language."—LION (Literature Online)
April 23 is the birthday traditionally assigned to William Shakespeare and the perfect time not only to celebrate the most-studied author in English literature, but also to acknowledge the extensive range of American University Library resources available for Shakespearean study. The Early English Books Online (EEBO) database is one significant 2011 addition to Shakespeare studies at American University. Another recent acquisition duplicates a resource already in the library, but takes access to a whole new level of convenience for student and faculty researchers; twenty of the Shakespeare productions in the highly regarded BBC/TimeLife video series can now be streamed to an individual desktop for viewing.
EEBO and the BBC series are just two of the many resources available for research on Shakespeare. Countless additional resources range from books to databases to media, including a video recording of a famous American University event connected to Shakespeare. In 1987, two AU professors from the Washington College of Law argued the "Shakespeare authorship question" before three Supreme Court justices. The oral arguments and the justices' ruling on the identity of Shakespeare can be found on VHS 501 in Media Services.
Early English Books Online
EEBO was purchased through a partnership of the Provost's office, the College of Arts and Sciences, and the University Library. Containing the complete images of almost all English language titles published between 1473 and 1700, EEBO is a rich resource for Shakespeare studies because it contains many of the sources and inspirations for the plays as well as early references to the writer from Stratford and the earliest publications of his dramas and poetry. As Shakespeare scholar Professor Madhavi Menon in the College of Arts and Sciences' Department of Literature says, "EEBO is invaluable in allowing our students access to multiple editions of early-modern texts... By looking at different quarto and folio editions of the "same" play, for instance, students are able to do a research project on textuality itself." Professor Menon offers a specific example of how EEBO can inform her research and her that of her students. She notes that EEBO has "scores of pamphlets that deal with anxieties generated by dress as a definer of gender and sexuality. This access immeasurably enriches an understanding of what people were saying at the time, and how plays and poems picked up on and contributed to this conversation." Professor Anita Sherman in the same department uses EEBO in a similar way to inform her research. For a forthcoming study of Hamlet, EEBO is allowing her to pursue a project that "goes to the heart of imagining alternatives and hence imagining change both political and religious." Monographs on Shakespeare by Professors Sherman and Menon are available in the library's book collections (another rich library resource on Shakespeare). All EEBO titles can be located through the ALADIN Catalog or directly searched in the database.
Shakespeare on Video
American University Library's media collections contain many recordings of Shakespeare plays in production on stage and in film. According to Chris Lewis, Director of Media Services, the "gold standard" for video of Shakespeare drama is the 1980s series jointly produced by the BBC and TimeLife Television. That entire series of the Shakespeare canon of 37 plays has long been available in the VHS format in Media Services and now 20 of those productions can be streamed to individual computers for all members of the university community. For pleasure or for research, students, staff, and faculty can view them 24 hours per day and enjoy the outstanding performances of some of the finest Shakespearean actors including John Gielgud, Anthony Hopkins, Derek Jacobi, Helen Mirren, Patrick Stewart, and even John Cleese. To locate the streaming videos, use the ALADIN Catalog. A simple keyword search that combines the phrase "streaming video" with the keywords of Shakespeare and Hamlet, for instance, is a good way to retrieve that play. For assistance with searching, contact Reference (x3238) or Media Services (x3250). The full list of the Shakespeare videos in the BBC/TimeLife series and available for streaming is given below.
Other Shakespeare Resources in American University Library
This annotated list highlights a few of the other resources available for research and study of Shakespeare in the library:
ALADIN Catalog
It is not possible to measure the breadth of traditional printed materials available for the study of Shakespeare in the library given the many related disciplines, such as history, language, gender studies, etc. useful for the study of Shakespeare. But a keyword search for "Shakespeare and criticism" yields nearly 1,500 results for American alone, not counting the additional titles available through the Washington Research Library Consortium.

Film & Television Literature Index with Full Text
This database is an excellent resource for critical material about film and television productions of Shakespeare from about 600 publications, many of them scholarly journals, ninety of them full-text. Researchers may be wonderfully surprised at the breadth and creativity of some of the indexed studies that indicate the continuing resonance of Shakespeare in the contemporary world. Anyone for "Adapting Shakespeare for Star Trek and Star Trek for Shakespeare: The Klingon Hamlet and the Spaces of Translation?"
Gale Literary Databases
Shakespeare has his own extensive entry in Gale's Dictionary of Literary Biography, but one would not necessarily expect to find him in Contemporary Authors or Contemporary Literary Criticism, yet references to him appear more than 7,000 in the combined works, a testimony to his lasting influence on other authors.
Film Literature Index
One of the best resources for the study of Shakespeare in cinema, the Film Literature Index (FLI), annually indexes 150 film and television periodicals from 30 countries cover-to-cover and 200 other periodicals selectively for articles on film and television. The periodicals range from the scholarly to the popular. More than 2,000 subject headings provide detailed analysis of the articles. Retrospective coverage of the printed FLI is available from 1976 to 2001.
International Index to the Performing Arts Full Text
IIPA is an excellent resource for all aspects of Shakespeare performance in theatre, film, and television, including acting, costume, set design, and much more. Articles and production notes in reviews cover every aspect of staging Shakespeare from providing babies, ghosts, and corpses to playing "depressing roles." Because of Shakespeare's universal appeal, play performances are often set in different times and places that vary from greatly from the original Renaissance staging. Information about a wide variety of those settings and also unique cast choices are accessible in IIPA, including for example, a recent Maori version of The Merchant of Venice performed in New Zealand.
JSTOR
As this database says, "Used by millions for research, teaching, and learning," JSTOR is undoubtedly one of the most popular databases at American University. For literature and language studies alone, JSTOR has "backfiles" of more than 200 journals. One of the distinct advantages of conducting Shakespeare research in JSTOR, however, is the multi-disciplinary nature of the database which means that articles from related fields are readily available. Because journals such as The Review of English Studies (1929-2000) are available from their inception, JSTOR is also an excellent database for tracking the history of Shakespeare criticism through biographical interpretations to new criticism to postmodernism, feminism, and other twentieth and post-twentieth century perspectives.
LION (Literature Online)
In addition to including the complete searchable text of the Shakespeare's plays and poetry, LION includes more than 4,000 articles about Shakespeare, a bibliography of his works, a brief biography, and a list of useful websites.
MLA International Bibliography
The ultimate bibliography for finding literary criticism, this title is a subject index for books and articles published on modern languages, literatures, folklore, and linguistics. It is produced by the Modern Language Association (MLA), an organization dedicated to the study and teaching of language and literature. The electronic version of the Bibliography dates back to 1963 and contains over 1.6 million citations from more than 4,400 periodicals (including peer-reviewed e-journals) and 1,000 book publishers.
Shakespeare Plays Available in Streaming Video from BBC/TimeLife
As You Like It
Hamlet
Measure for Measure
The Merchant of Venice
A Midsummer Night's Dream
Much Ado About Nothing
Othello
The Tempest
Richard III
Romeo and Juliet
The Taming of the Shrew
Titus Andronicus
All's Well That End's Well
A Comedy of Errors
Henry V
Julius Caesar
King Lear
Macbeth
Twelfth Night
Winter's Tale