Alumni
Greetings from Joe Vidulich, SPA/BA '08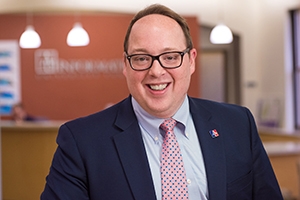 It's officially time to turn our attention to the fall and the many activities your Alumni Association is planning for you. First and foremost, All-American Weekend is right around the corner. I hope you're making plans to return to DC and to AU next month. We will celebrate this great university with more than 40 events during the weekend of October 20-22. And, if you haven't heard, this year's All-Alumni Party is at the International Spy Museum. I definitely expect to see you there for this one! It's going to be epic.
This month's Alumni Update features five alumni award winners to be acknowledged at a special dinner during All-American Weekend. This phenomenal group includes David Aldridge, Ann Kerwin, Penny Pagano, Tara Palmeri, and Andy MacCracken. I hope you will join me as we thank them for their contributions both to AU and to the communities around them on October 20.
Also, I encourage you to take time to consider nominating a fellow Eagle - or yourself - for the Alumni Board. Members play a key role in guiding the efforts and initiatives of the Office of Alumni Relations and serve as formal and informal ambassadors of American University regionally, nationally, and internationally. We have a fantastic group of Eagle alumni and are excited to add to our ranks this year. Please read up on our work and be in touch with any questions.
Finally, to our alumni in areas affected by recent natural disasters, please know that our thoughts are with you. We have heard from alumni who are pitching in to help their own communities and others with recovery, and we applaud your efforts and your resiliency. Please be in touch if the university can assist during this time of great need.
All the best,
- Joe Vidulich, SPA/BA '08