Internships
Dean's Intern Shares LivingSocial Experience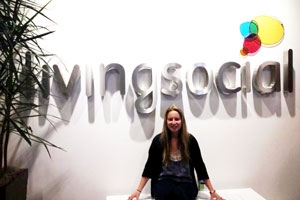 Below is a first person account from Dean's Intern Erica Finkelstein on her internship at LivingSocial.

Live hungry. This is a LivingSocial motto that is frequently overheard in meetings, read in emails, and seen on the walls of the company's New York Avenue office.

Food actually played a key role in my internship, because I spent a lot of time working on a LivingSocial experience called "Sumo + Sushi." Sumo + Sushi is a LivingSocial Original event: guests watch a live sumo-wrestling match while enjoying a gourmet sushi meal complete with sake and edamame. I guess you could call it a form of dinner theatre!

I needed to learn a lot about the ins and outs of this event because I had the opportunity to work on press releases, media alerts, media lists, and pitching for the event. When the tour came to D.C., I went to see the show at LivingSocial's 918 F St. It was definitely a once-in-a-lifetime experience.
Boring is not a word used at LivingSocial. The brand is truly unique, as I discovered by working on the internal communication team.

This internship allowed me to hone my public relations skills, something very important to me in my final semester of college. It also helped me further focus my interests, and confirm that in the future I am interested in consumer public relations.

I made the most of key opportunities throughout my internship, seeking out marketing team members to ask if I could assist with their projects, like the international marketing newsletter. I loved that particular assignment because I got to find out what other LivingSocial offices were working on around the world.

I also took the advantage of a Social Media Week panel about sports and entertainment marketing held at LivingSocial's 918 F St. The event tied together LivingSocial, Social Media Week, D.C., and public relations, four of my favorite things.