Environment
Summer Research in Guam
Student Sustainability Spotlight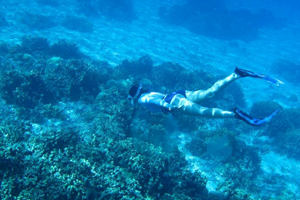 Meaghan Cuddy, CAS '15 is taking her study of environmental science out of the classroom. For two and a half weeks this summer, Meaghan traveled with Environmental Science Professor Kiho Kim to Guam, as part of a project studying how the island's wastewater treatment infrastructure affects organisms such as seagrass.
"I knew I wanted to get some research and field experience to help me broaden my perspective on environmental issues and narrow down aspects of the field I want to go into," says Meaghan who, with help from Professor Kim, applied and received the Mathias Undergraduate Summer Research Grant that allowed her to travel to Guam.
 
Due to Guam's poor wastewater treatment, a large amount of untreated or minimally treated sewage is flushed out into the ocean. Meaghan and the research team were able to test the water and the organisms living there for levels of Nitrogen-15. This information, along with further testing for bacteria, can provide evidence of the water pollution from human waste.

"We hope that the data we've collected will serve as evidence that the wastewater treatment system in Guam still needs to be improved and that this is an important issue for the health of these valuable and important coastal ecosystems that the government needs to pay attention to."

While Meaghan was able to get her feet (and often entire body) wet with hands-on research, she was also able to travel around Guam. Her favorite part of the trip was having the opportunity to explore Chuuk, which is located on the main island. With its beautiful landscape and extensive coral reef, the experience was breathtaking.

"Going on this trip was an amazing way to really see what it is like to be a field biologist and put the skills I've learned in the classroom to use," Meaghan added, "It was so amazing to snorkel the reef and see animals that I talked about in biology and environmental science classes in the wild and hold them in my hands."

This experience has reinforced Meaghan's desire to protect endangered ecosystems and educate others about their beauty and fragility. With her new fieldwork experience, Meaghan is ready to take on more research with a new found understanding of the world and how to approach it as a scientist. For now, Meaghan will hit the books in several classes this fall including Marine Biology, Environmental Toxicology, and Conservation, continue processing her seagrass samples, and serve for the second year as a Green Eagle sustainability peer educator in Cassell Hall. We have no doubt, however, that she will be back in the field soon!

Click here to see more pictures of Meaghan's trip in our summer Sustainability Snapshot.