On Campus
Info-Metrics Institute to Host Fall Conference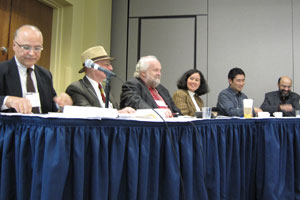 On September 24 and 25, the Info-Metrics Institute presents its third conference, Info-Metrics: Theory and Applications in the Social Sciences. The conference will feature speakers from a swath of universities and research institutions across the country and world, including Cornell University, Yale University, the London School of Economics, and NASA. Friday's sessions will take place in Mary Graydon 5 and 6, while Saturday's sessions will take place in Ward 2.
Info-metrics is an interdisciplinary method of research that aims to extract information from statistics and data. This fall's conference will look at information processing and data analysis across social sciences, economics and econometrics, and finance and risk management. The two-day conference, open to the public, welcomes all. Info-Metrics Institute director and economics professor Amos Golan says that he hopes the conference will help people "broaden their horizons" and be exposed to new topics in info-metrics research.
The Info-Metrics Institute is an interdisciplinary center hosted within the College that "fosters development of innovative and interdisciplinary research on new methods to solve problems related to real world data," according to its website. The Institute further fosters an environment for both applied and theoretical research in information processing, econometrics, statistics, and information theory, "with an emphasis on studying problems and data across the social and natural sciences." Scholars from across the country sit on the program committee.
This fall's conference is dedicated to the memory of Arnold Zellner, a founding member of the Institute, who passed away in August. For more information including session topics and times, visit http://www.american.edu/cas/economics/info-metrics/conference/index.cfm.