Arts
Fall for the Arts: September 20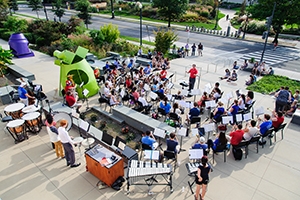 Have you ever wanted to join a band, perform in a Shakespeare play, or become a landscape photographer for a day? If so, you'll have your chance at the College of Arts and Sciences' annual Fall for the Arts celebration, held this year on September 20 at the Katzen Arts Center.  
Each year, Fall for the Arts brings together neighbors, students, faculty, and friends through a day devoted to the arts. The event features nearly 20 workshops and sessions on acting, music, writing, and visual art, as well as a behind-the-scene tour of the museum and surprise performances throughout the day.  
This year's workshops include Drawing in the Italian Renaissance, No-Fear Shakespeare, Fundamentals of Color, Writing the 4-Chord Song, and many more. Participants will learn how to age creatively, use acting methods to improve public speaking, and unlock their inner playwright. Children can build their very own cabinets of curiosity, learn how to interpret musical recipes, and experience the 13 movements of Schumann's Scenes from a Childhood.  
Reception and Auction

The day concludes with an early evening reception in the Katzen Arts Center and an art auction featuring 34 items from the estate of prominent art collector Marc Moyens. Auction works include paintings, sculptures, and mixed media pieces from artists including James Bumgardner, Alan Stone, Maureen McCabe, and Carlos Gomez Bal, among many others.  
When H. Marc Moyens founded Gallery Marc in 1969, he quickly became a central figure in the Washington, DC, arts world. Gallery Marc was part of the District's first "gallery row" on P Street Northwest, establishing Moyens as a serious arts collector and one of the first major gallery owners in the city. He later opened Gallery K with his partner Komei Wachi in 1975, which bucked current trends by focusing on photorealism and surrealism at a time when the Washington Color School was favored. Upon his death in April 2003, Moyens' collection contained nearly 2,500 pieces, encompassing art from New York, California, and all around the world. 
Paul Richard, in his Washington Post review of the H. Marc Moyens Collection at the Corcoran Gallery of Art in 1969, hit the nail on the head when he described the works as "realistic spooky things that have the originality of nightmares." Richard went on to note that "Moyens' taste is at its best when it is at its weirdest."  
Details and Ticket Information 
Fall for the Arts is a fundraiser for the arts at American University. All proceeds benefit the arts at AU. It is open to the public, local residents, patrons of the arts, parents of AU students, and the entire AU community. Tickets are $25 and $10 for students and those under 18. For workshop schedules, online tickets, and auction information, visit the Fall for the Arts website.