Arts
Shaking Up Glengarry Glen Ross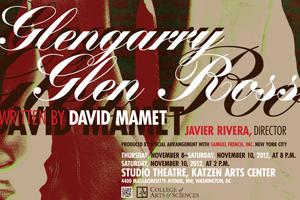 From its nontraditional casting to its recognition of the play's enduring relevance long after winning the Pulitzer Prize in 1984, AU's production of David Mamet's Glengarry Glen Ross is sure to make audiences react to its relentless depiction of desperate characters in desperate times.
The production will run from November 8 to November 10.
The play examines two days in the lives of real estate salesmen trying to peddle two developments, Glengarry Highlands and Glen Ross Farms. The first act opens in a restaurant, where the audience is introduced to the characters. Mamet also introduces their dirty dealings and back stabbing, showing how real estate business was conducted.
Act II, which takes place in the real estate office, begins with a robbery. Someone has broken into the office and stolen the sales leads, the "golden chalice" of real estate. That is when everything begins to fall apart.
"It's a little bit of a whodunit," says Javier Rivera, the play's director and assistant professor in the College's Department of Performing Arts. "In Act II you see this office that was running pretty smoothly is suddenly falling apart, and you see the results of selfish behavior of humans when it is not kept in check."
According to Rivera, Glengarry Glen Ross also mirrors the way that government was run in the early 1980s. "It addresses the lack of regulation, as well as the rampant actions of people doing anything at any cost to achieve the 'prize,' no matter who is hurt along the way," he says.
Rivera and the students are also using the opportunity to make several statements. They imagine audience members walking away with a different view of the world and contemplating the current state of the nation. "I am trying to make a broader statement in this production," Rivera continues. "People should come expecting to be enlightened in some way. I think they will either learn something new, they will have their beliefs reinforced, or they will be completely provoked and upset with the show; but they will definitely feel something at the end. That is the goal."
Rivera also points out that the issues being addressed in the play are directly related to the issues the United States' economy is currently facing. He notes that Mamet was a visionary in writing about something that would directly affect the world for decades.
"I want the show to reflect our current economic and political state, because Glengarry Glen Ross does serve as a time capsule of sorts," he says. "It was written in 1984, and I believe that the financial wheels that are currently affecting us were set in motion in the early 1980s. It is no coincidence that the play deals with a real estate market and the reckless, irresponsible behavior associated with it, and that in 2007, the first thing to go was the real estate market. No coincidence at all. I have a feeling that he saw things coming, as playwrights often do; they see things in clearer ways."
The AU production will have quite a twist, however. While Mamet originally wrote the play for seven male actors, Rivera constructed an all-female cast. The point of the casting change is to address the issue of gender, equality, and sexism in the workplace. "It is amazing that this is still an issue," says Rivera. "We are asking the question, 'Would we be in this mess if more women were in a higher, more visible position of power back in the early '80s?' I'm not talking about Geraldine Ferraro. She was an icon for the feminist movement, but she was never in a position to affect any kind of real change. We had no Condoleezza Rice, no Madeleine Albright, no Hillary Clinton in this country at that time. That is a fairly recent phenomenon."
Mamet himself signed off on the all-women cast for his male characters. When Glengarry Glen Ross was written, Mamet was an admitted misogynist. He wrote for men, and specifically against women, in many of his plays.
Rivera explains: "He beat up women emotionally and physically. It is interesting that the messenger we are utilizing is not Arthur Miller or Sam Sheppard; it is David Mamet. He gave us permission to do this, even though at the time he wrote the play, he wouldn't have. But now he has two daughters, and he writes for women. His latest play stars two women. He has completely changed as a human."
Glengarry Glen Ross will run evening performances from Thursday, November 8, through Saturday, November 10, at 8 p.m., and a 2 p.m. matinee on November 10. All performances will be in the Studio Theatre in the Katzen Arts Center. For more information on the play and the AU Department of Performing Arts, and for ticket information, visit the AU Arts web site.