Social Sciences
Global Majority E-Journal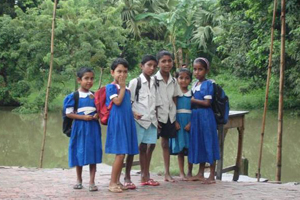 Publication in an academic journal seems like a distant goal for many beginning undergraduate students, something they may be able to do as a junior, senior, or even as a graduate student, but for those in Bernhard Gunter's Global Majority class, this opportunity can occur as soon as a student's first semester through the Global Majority E-Journal.
In the College of Arts and Sciences Global Majority class, students examine the economic and social conditions of a variety of developing countries. Gunter, the class's professor and editor of the journal, who also serves as president of the Bangladesh Development Research Center in Falls Church, says that the term "global majority" refers to the more than 80 percent of the world's population living in developing countries. "Poverty anywhere is a threat to peace and prosperity," says Gunter. "Even though the industrialized countries still rule the world in economic terms, we are realizing more and more that we are all in the same boat and we simply cannot ignore the global majority."
Students in the course examine a wide variety of poverty and development issues, but Gunter also believes that it is important for students to conduct their own research on global majority issues that specifically interest them. Throughout the course, students research and write about a topic of critical importance to a specific country. Students with the most successful papers are given the opportunity to submit their work for publication in the Global Majority E-Journal. "We want to reward students by being able to publish their hard work," says Gunter, "and to showcase to the rest of the world what AU students can do." Gunter incorporates this research into the course to allow students with different academic strengths to succeed in the class. "The world is becoming more and more complex," says Gunter. "The most successful are not necessarily those with the best exams, but those who combine knowledge with intuition, innovation, and passion."
Will Lawther's paper, "The Urban Plan for India: A Foundation for Economic Growth," was published in the journal's most recent edition. "This project was certainly the most rewarding part of the course," says Lawther, a sophomore in the School of Public Affairs. "Professor Gunter allowed us to independently decide what we would like to research with few limitations and to explore a pressing global issue in detail."
Lawther worked to understand urban development in India in order to see its impact on economic growth. "Urban development is such an important issue for the 'global majority' because it means stability and economic success," says Lawther. "Urban environments have a great potential to reduce poverty and alleviate its effects if urbanization is managed correctly. In the case of India, mismanaged urbanization resulted in the emergence of mega-cities such as Calcutta and Delhi, and the proliferation of slums."

Gunter believes that by giving his students access to the high quality research papers of their peers, rather than simply those of scholars who are older and more advanced, students are encouraged to produce their best work. "Students are not asked to push the scientific frontier," says Gunter. "The journal is a great resource for many people who want to know more about a current development issue in a specific developing country and what it means in a concrete case, written in a language everybody can understand without being an economist or a scientist."
Madeline Beard says that conducting this research was key in shaping her view of these modern world issues. "The course definitely helped me gain a greater understanding of the problems the majority of the world population faces on a daily basis," she says.

A sophomore in the School of Communication, Beard conducted research on the ways in which civil war has affected the lives of children in northern Uganda. "I wanted to write about something that I had no real previous knowledge of and that would challenge my view of the world," says Beard. "I believe human rights issues applying to children are important to address, as children are most vulnerable to poverty and the problems that face impoverished communities such as lack of food, clean water, and education."
"We are all global citizens," says Beard, "and we have the chance to play an active role and make a difference in communities that are struggling. However, this cannot be done if we are uneducated about the complex issues these people face."
The e-journal, which recently published its fourth issue, is published at the end of each semester and is available for free online.