In the Community
A Hands-On Approach to Health Education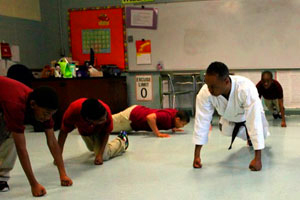 When 6th grade students from Kelly Miller Middle School were asked to photograph barriers in their community that hinder healthy living, they captured images of unsafe crosswalks, basketball hoops without nets, and areas without sidewalks. When asked to capture equipment that enables healthy living, they took pictures of nice tennis courts, safe playgrounds, and fruit and vegetable stands.  
The assignment was part of a 5-week program at the school called Community Voices for Health: Kids Take Action. Spearheaded by health promotion professor Stacey Snelling, the program aimed to teach Kelly Miller students about health, exercise, and nutrition in an engaging and interactive format. The program culminated in an assembly on June 3, where students presented their activity projects. 

According to Snelling, these lessons are especially useful at Kelly Miller, which is classified as a failing school by the D.C. Public School System, and is in Ward 7, which has the second-highest poverty rate and second-highest unemployment rate in the District. "Healthier students make better learners," says Snelling. "Helping them improve their personal health can help them improve academic achievement, which will then go ahead and improve their potential to go on to college in a productive, higher-income and higher-education level. It's truly a full continuum."  
In every Tuesday for 5 weeks, Snelling and her team— Jess Young, MS SETH '10, health promotion professor Jennifer Adkins Ernst, and SETH field experience coordinator Doris DuPree—provided a lesson on topics ranging from how to write persuasive letters to local or national politicians about improving community health, to nutrition basics, to how to analyze a Lays potato chip commercial for misleading advertising.

In the culminating assembly, students saw a slide show of their neighborhood assessment photographs and presented their skits, flyers, songs and posters created with their groups, which they used to convey a message to their communities about health-related topics, such as their school's need for school gardens, breakfast programs, or PE equipment.  
Snelling calls the program a "valuable, rewarding experience. We were constantly preparing, constantly coming up with new ways to energize the students. We plan to return to Kelly Miller in the future and help build a school garden with the students." And according to Snelling, the students enjoyed themselves as well—many approached her or her colleagues at the final assembly and asked if they'd be returning.  
On Oct. 26, 2010, Kelly-Miller Middle School became the first DC school to receive the Silver Award from the U.S. Department of Agriculture for their participation in the HealthierUS School Challenge, a key component of First Lady Michelle Obama's Let's Move campaign to end childhood obesity within a generation. Kelly-Miller is also the first middle school in the country area to receive the award. "This achievement recognizes Kelly-Miller as a national leader in the effort to advance school nutrition," said Audrey Rowe, Deputy Administrator of USDA's Food and Nutrition Service. "It's very exciting for us," SETH Dean Sarah Irvine Belson said. "This project demonstrates that in order to make real and lasting change in children's lives, we need to offer a full deployment of academic and social programs – soup to nuts."