Research
Weighing In:
Anastasia Snelling gives the second faculty interview in a series on health care reform.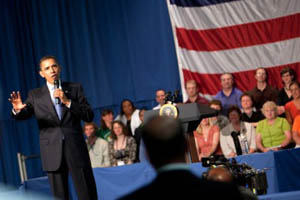 In the second interview in a series on health care reform, Anastasia Snelling exlores the current reform debate from a health promotion perspective. A professor in the School of Education, Teaching, and Health, Snelling has been teaching undergraduate and graduate health promotion programs for the past two decades with a focus on nutrition and behavior change, the integration of health promotion into health care, and health communication.
From a health promotion perspective, what are the current proposal's strengths?
In years and decades past, health reform didn't talk about the prominent role that health promotion has to play in health care policy. But with the current proposal, the term "health promotion" is emerging as a major tenant to any health care reform. So there is recognition that our health care reform needs to be about not only the restoration of health but the prevention of disease.
And, not only is the term being talked about, the government is putting funding towards health promotion. The American Recovery and Reinvestment Act that was passed in February designated 1 billion for disease prevention, which will be divided between both infectious and chronic disease.
What are the proposal's weaknesses?
The Congressional Budget Office (CBO) is determining how much it is going to cost to get everyone into these preventative services and how we are going to recoup those costs. One major concern is how they are going to assign monetary value to the prevention of disease.
For example, if we send everybody for early detection of breast cancer, we'll be paying for a higher number of mammographies than we do now. That much is clear. But the CBO has yet to determine how much money we will save on late-stage breast cancer treatment because we will have identified the disease earlier. So they haven't been able to balance the costs of having everyone have a mammography versus the costs of having to pay for people's advanced treatment.
Should the proposal do more to address health promotion?
I don't believe our health care system is the main solution to changing our health behaviors. Think about it. You go in for an annual physical, and it's 16 minutes out of 365 days in a year. Health promotion can be underscored there—physicians can hold patients accountable for behaviors that either help or promote health risks—but it's not where health promotion happens. It is our community centers, worksites, schools, hospitals, and places of worship that can effectively educate people about healthy habits and promote healthy behaviors on a daily basis.
Are there other ways that the government can support health promotion?
There are many bills circulating right now that are not health care reform bills per se, but that are connected to health care reform because they promote programs that will help reduce the burden of sickness on our health care system.
For instance, there is a School Reform Bill that regulates school lunches. With one in five children overweight, promoting healthy eating habits in schools is essential to minimizing chronic diseases later in life. Another example is the Healthy Workforce Act, which would offer a tax break to workplaces that offer on-site health promotion management programs. These are separate bills, but they illustrate how health policy can create supportive environments for people to lead healthy lives which may lead to decreasing the health care system's "sick-care" costs.
Those bills have been around longer than the current health care reform bill, but now they're getting a push because legislators acknowledge that the current reform efforts need health promotion strategies to reduce the incidence of chronic disease.