Research
Mennonite Values, Bilingual Education in Panama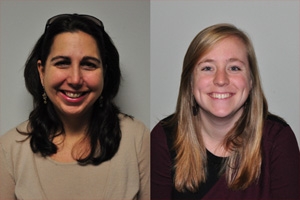 Joanna Whitaker spent her winter break in the muddy jungles of Panama. Kelsey Anderson spent hers at Eastern Mennonite University in rural Virginia. Though worlds apart, both graduate students in the College of Arts and Sciences' International Training and Education Program are doing research to better understand how different cultures and identities affect learning.
Mennonite Identity in Cross-Cultural Programs
Anderson is concentrating her master's degree in student exchange and study abroad programs. So she naturally reflected on her own study abroad experience in Spain. That's when she realized her undergraduate alma mater, Eastern Mennonite University, takes a different approach to studying abroad.
"I'm operating from the point that their Mennonite identity and faith are connected in some way," she said. "My research is getting at how they are connected."
Eastern Mennonite University refers to its study abroad program as a "cross-cultural experience," and Anderson said everyone is required to participate. A faculty member, who brings his or her own experience to the trip, leads each program.
"I'm hypothesizing that the Mennonite values of service and community are going to be the two major influencers of the values of their cross-cultural program," Anderson said. "I think they'll show up in the ways that they chose locations and topics for these programs, and the faculty that they chose to lead them."
Anderson's research includes sifting through EMU and Mennonite history, as well as conducting interviews with faculty members and others associated with the university who are involved with the cross-cultural experience program, such as the director.
"I want to get a feel for how each person I interview identifies with the Mennonite world," Anderson said. "I want to get a sense of the connection they see between Mennonite identity and the cross-cultural program, and how they see their role in relation to their Mennonite identity within the experience they've had with the cross-cultural programs."
Out of the seven interviews she has conducted, Anderson said the most surprising thing she has learned is that the community-service component that is part of every cross-cultural program was not part of the initial plan.
"They wanted to keep the focus on learning from others and avoid participating in any dynamics that could communicate a belief that they, as Americans, have all the answers or all of the resources to help the community they are visiting," she said. Anderson added that this contradicted what she was expecting to find.
Anderson said she is excited to be able to contribute to the institutional memory of her small undergraduate university.
"It's a really interesting personal reflection for me to do all of this because I went through the program and I went through the institution. So I get to see how those values have come through to me."
Bilingual Education in Panama
Joanna Whitaker loves Panama. She loves it so much she spent 10 days of her winter break (Panama's rainy season) hiking in the mud to reach remote Ngabe villages. There she interviewed Ngabe women about how language and culture affect bilingual education.
The women Whitaker interviewed speak Ngabare, but their children are taught in Spanish.
"The government is implementing a bilingual program and their first bilingual teachers are going to start teaching next year," Whitaker said before she left for Panama in January. "It will be interesting to see how communities feel about this now."
Whitaker lived in Panama for three years as a Peace Corps volunteer and taught at a school in an indigenous village where she experienced the school system first hand. During her third year she worked for the Panamanian Ministry of Education so she could see "both sides of the issue" in the country's education system.
"It seems like the programs that were the most successful in other countries involved the community in some way, but in most of the projects I've reviewed it seems that there is a component that's missing—the community view," she said.
Whitaker's main research questions were to examine what mothers of indigenous elementary schoolchildren are doing to prepare their children for school, and how the culture and environment play into that.
Whitaker conducted nine interviews in Spanish while she was in Panama, and she said one of the most interesting things she learned was the influence of native language.
"I learned that there were some older women who had teachers that taught them in Ngabare, and you could see how their experience with school was much better than those women who weren't taught in their native tongue," she said.
One of the most surprising things Whitaker said she learned was that there are some Hispanic teachers who value the Ngabe culture, something she did not find when she was in Panama before.
"One teacher asked his students to talk about their culture and none of them were able to describe what it meant to be a Ngabe," she said. "So he gave them a group assignment where each group had to investigate one aspect of their culture and present it to the other students in the school."
Whitaker said she hopes her research shows that indigenous people want to improve their children's education, and that they should be included in the process of program development.
"They are already changing the way they teach their children in the house in order to meet the global demands of our current society, and they understand what needs to be done," Whitaker said. "But they also believe in the importance of preserving their culture along the way."