On Campus
Jack Child Distinguished Memorial Lecture Series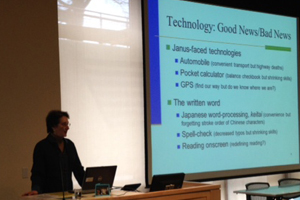 On March 5, 2012, the Department of Language & Foreign Studies inaugurated the annual Jack Child Distinguished Memorial Lecture Series to honor a beloved colleague, the late professor of Spanish and University Professor, Dr. Jack Child. The purpose of this series, conceived by Professor Usasi Chatterjee, was to honor his commitment to teaching with technology and to foster dialogue among faculty about ways in which knowledge of technology informs both foreign language acquisition and teaching.
Professor Naomi Baron, executive director of the Center for Teaching, Research and Learning and professor of linguistics in LFS, was selected to be the inaugural speaker. Her lecture, "Redefining Reading: The Impact of Digital Communication Technology," explored how devices such as computers, eReaders, iPads, and mobile phones may be changing the way we read—and even what it means to read in the first place. These questions build on her broader interest in the impact of information and communication technologies on language, social relationships, personal psyches, and on the way we think. Professor Baron's research comparing reading in hard copy versus on screen will be incorporated into a new book on which she is currently working.
The lecture was attended by Dr. Child's wife, Leslie Morginson-Eitzen, College of Arts and Sciences dean Peter Starr, and many LFS faculty, students, and alumni, and was followed by a lunch. The event was organized and coordinated by Isadora Vigier de Latour, a graduate student in the School of International Studies and the LFS administrative assistant.