Alumni
Alumnus Making DC History Come Alive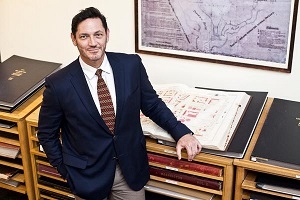 John Suau was unanimously approved to become executive director of the Historical Society of Washington, D.C., in March 2014, following a six-month search by the Society's board of trustees. 
Suau, who received his MA in arts management from AU, brings his range of international and domestic experience to a Society with a 120-year history of collecting, interpreting, and sharing the history of Washington, DC.
"John's innovative and problem-solving approaches embody the ethos of the AU Arts Management Program, where students learn to develop creative solutions to complex problems in all areas of the arts," said Ximena Varela, director of the Arts Management Program. "John's leadership in the Society heralds a new era in community engagement and exciting program development."
Suau says it seems fitting that he is back in Washington. "I am happy to return to DC, where I came in 1995 to complete my graduate studies at American University in arts management," said Suau. "While I have always benefited from my experiences in our nation's capital, it's of particular significance that my education and skills are being used to help rebuild one of the city's most important treasures, that of it's own history." 
A Career in Arts Management
Suau has served as executive director of the Mid-Atlantic Association of Museums, and as manager of meetings, professional education, and diversity for the American Alliance of Museums. His work has included the coordination of conferences on cultural tourism and sustainable communities;work with art galleries and publications;and the marketing of technology companies that assist museum, libraries, and archives with the shift to digital platforms. 
Suau is also the creator of two popular web publications of his own: Museum of the Day, which features global cultural institutions, and John the Museum Guy, which highlights visitor experiences. 
Looking Back, Moving Forward
Suau's work with the Society includes the redevelopment of the Society's headquarters in the Carnegie Library on Mt. Vernon Square—once closed due to expenses—thanks to a partnership with Events DC and the International Spy Museum. Plans are now in the works to transform the Society's former building into the new International Spy Museum, featuring new additions to the building as well as a visitor's center. Suau is also currently working with other partner organizations to make the Society more associated with the community, rather than a single building. 
"I am honored to have the opportunity to give back to the city that has always given me so much professionally," he said. "And I am pleased to report that the society is now working with AU's Kogod School of Business Administration to help it celebrate its 60th anniversary with a mural retrospective of businesses in Washington, DC."
The Historical Society of Washington, D.C.
The Historical Society of Washington, D.C., is a community‐supported educational and research organization that collects, interprets, and shares the history of our nation's capital. Founded in 1894, the Society serves a diverse audience through its collections, public programs, exhibitions, and publications.