Arts
The Sculpture and the Student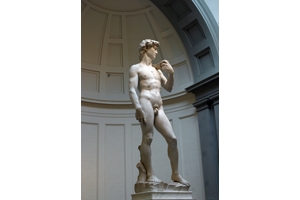 FOR HALF A MILLENIUM, we thought we knew everything there was to know about Michelangelo's David. The statue's laser gaze and defiant pose, aimed at the fearsome Medici family and its supporters, have long been considered metaphors for the Florentine Republic's struggle against political tyranny, and humankind's yearning for liberty.
Now, a newly minted AU graduate is offering a new perspective on the masterpiece. Joshua Kamins (MA art history '15) believes the symbolism of David is not just political, but religious, and he cites the statue's origins—and Michelangelo's inclusion of a tree stump—as evidence.
The real David, of course, is one of the preeminent figures of the Old Testament, a descendent of Abraham. David killed Goliath, Philistine warrior and enemy of Israel, and became King of Israel. Among David's descendants in this family tree, according to the Bible's line of succession, was Jesus Christ.
Michelangelo began sculpting David in 1501. It was commissioned as one of a series of prophet sculptures meant to sit on the roof of the Duomo cathedral, the spiritual heart of Florence.
Upon David's completion in 1504, however, cathedral officials reconsidered the original site plan, because of the difficulty of hoisting a colossal sculpture onto the cathedral roof, and out of a desire for more people to see its innovative design and political symbolism.
They convened a meeting of Florentine citizens, including renowned artists Leonardo da Vinci and Sandro Botticelli, to debate nine possible locations in the city. They wound up placing David at ground level, next to the entrance to the Civic Palace in the Piazza della Signoria—the civic and political center of Florence—where it sat for nearly 400 years until it was moved indoors and a smaller replica replaced it outside.
But that original location on the Duomo rooftop, Kamins argues, is key to understanding Michelangelo's artistic vision for David. In his research, Kamins came across a 2010 exhibition, David, La Forza della Bellezza, which chronicled the history of the statue and placed life-size plaster replicas in each of the nine locations debated in 1504.
When Kamins saw a representation of how David would have looked on top of the Duomo, he had an epiphany: the tree root that David leans against is not merely a prop to support the heavy marble sculpture, but a symbol of the King's sacred religious lineage, or family tree. Michelangelo's wish to highlight David's prophetic identity and importance as ancestor of Christ was obscured, he argues, by the decision to move the sculpture to a location that endowed it with more political meaning.
"Josh identified a critical gap in the scholarship on Michelangelo's sculpture," said Kim Butler Wingfield, professor of art history at AU. "Scholars had never considered the possibility that Michelangelo was focusing on religious themes. He changed the way scholars will understand and teach this key Renaissance work."
In 2014, thanks to the generosity of emeriti faculty donors Carol Bird Ravenal and Romeo Segnan, Kamins received a grant to travel to Florence and view the Duomo and David in person. This year, he presented his research at the 45th Middle Atlantic Graduate Symposium.
Kamins hopes that scholars will now look at the creation of David with different eyes. "I hope that art historians will now study David with an awareness that it was part of a time and place, even if it didn't end up in the intended spot," he said.