Arts
Alumna Opens New Art Gallery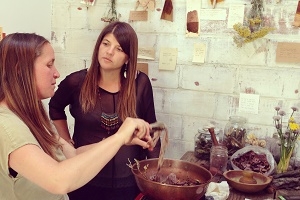 Sometimes, all it takes is one person to change the course of a life. For alumna Suzanne L'Heureux, that person was Helen Langa, director of the College of Arts and Science's Art History Program.
L'Heureux met Langa while pursuing her undergraduate degree in fine arts at the University of Dayton, where she also picked up a minor in women's studies. At the time, Langa was an art professor at the university, and she was the one who introduced L'Heureux to a feminist approach to art. "When she left Dayton for AU, she suggested that I might want to pursue a graduate degree in art history," says L'Heureux. "I took her up on it, and it was a real turning point for me."
Since graduating with her master's in art history in 1999, she's turned her studies to work. A resident of the San Francisco Bay Area, L'Heureux organizes a free outdoor movie night right in her neighborhood, called Temescal Street Cinema, which showcases films by Bay Area artists. She also started Interface Gallery, which highlights the work of emerging artists who are critically exploring the relationship of humans to the environment. L'Heureux's work has an emphasis on community building. "I value the way that responding to and reflecting on art has the potential to deepen our understanding of ourselves and our relationship to the world," L'Heureux says. "I'm also inspired by the emphasis on collective authorship and community-based art that was very much spearheaded by feminist artists, who I learned about at AU."
Works at Interface often have a social practice focus. L'Heureux lives near the California College of the Arts, where the first official social practice program in art was started by Ted Purves. "Community-based art is kind of in the air around here."
L'Heureux likes the idea of extending meaningful art experiences to more people than just those that are art scene regulars. Community-based projects in the space have included free workshops and skill-sharing sessions on topics ranging from natural dyeing to growing medicinal herbs in the garden. In her solo and group shows at Interface, L'Heureux encourages artists to include interactive or hands-on elements. One show included a picnic table in the center of the gallery that visitors gathered around and were invited to carve into throughout the exhibition. L'Heureux views such activities as an invitation to people who might not otherwise step over the gallery threshold. "There's a kind of intimacy and openness between people participating that can be quite lovely," she says. "I love seeing again and again how willingly people accept the invitation to participate, how delighted they are by it—it's a reminder of how much we all want to feel included."
L'Heureux also teaches in the Academy of Art University's online art history program—a job that she received thanks AU alumna Julie Charles. "I had such an inspiring experience at AU, and I wanted to ignite other people's interest in art history in a similar way, as well as bring some of the socio-political perspectives I gained at AU to that pursuit," L'Heureux says. She recently developed a class called Women, Art, and Society, which draws upon much of what she learned from the Art History Program at AU.
L'Heureux's efforts at Interface Gallery are supported by various grants and awards from national organizations, including the Kenneth Rainin Foundation, the Potrero Nuevo Foundation, Southern Exposure (which combines support from the Andy Warhol Foundation for the Visual Arts and San Francisco Grants for the Arts), the Awesome Foundation, and the Sui Generis Foundation.