Science
Studying Radiation Physics at NIST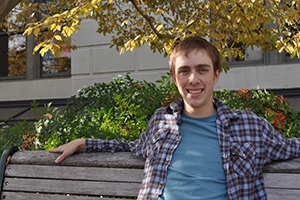 Twice a week last semester, Matt Tweardy traveled to the National Institute of Standards and Technology in Gaithersburg, Maryland, to work on what he hopes will be his ticket to graduate school.
The AU physics senior worked on his senior capstone project in the NIST Radiation and Biomolecular Physics Division, researching how light waves can be used to create a more effective radiation treatment. The project is a variation of his summer internship there, where he did the same research, but with sound waves.
"I'm going to keep moving the project forward and continue working on it. I want it to help me get into graduate school," said Tweardy, who wants to study nuclear engineering in the future. He is also a student in the School of International Service, concentrating on global security and Europe.
Tweardy's summer research used sound waves to measure temperature changes in water. Using an ultrasonic imaging system, his research showed that it is possible to use ultrasound to measure heat from radiotherapy beams.
Ronald Tosh, a physicist at NIST and Tweardy's advisor, said Tweardy was focused and disciplined.
"He set out from the beginning to own the problem and the work and all the little setbacks along the way," Tosh said. "He was able to make unprecedented strides in validating a research instrument we are trying to use for imaging radiation dose in water."
"My favorite part about the research was making a legitimate contribution to a technology that will be used in everyday life to help people," Tweardy said.
Knowing the exact amount of radiation a doctor delivers to a patient during radiation therapy for cancer is very important, he added.

"Too much radiation can make a patient very sick and is potentially fatal," he said.
Tweardy's summer internship was part of the Summer Undergraduate Research Fellowship program at NIST. He said he was looking for research to do over the summer, and a professor suggested the program.
"The Physics Department has really helped me along," Tweardy said. "It's small, but it has a good community feel."
Tweardy said his dream job is to work for the International Atomic Energy Agency. He studied abroad in Belgium and interned at Foratom, the trade association for nuclear energy companies in the European Union. There he worked on two projects: investigating the environmental damage caused by the Fukushima nuclear power plant disaster in Japan, and analyzing the future of the Russian nuclear industry. Tweardy said the best part of his internship was connecting with other industry professionals, which reaffirmed his goal of entering the nuclear energy industry.
After working in a modern physics class on a project about the history and science of the atomic bomb, Tweardy said he became interested in nuclear engineering. Studying energy policy in SIS classes only strengthened the fascination.
"It was the perfect combination for both my physics and SIS interests," he said.
Other students seeking research opportunities should have no difficulties, Tweardy said.
"There are so many opportunities around the country that offer really good pay and subsidies for living and travel," he said. "A lot of Research Experience for Undergraduates openings don't even get filled each summer. Just ask one of your professors. They can be so helpful."