Science
Super Cells: Building with Biology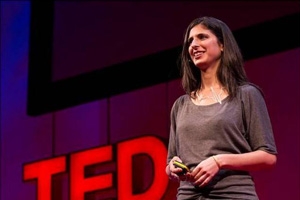 When Bishop Charles Cardwell McCabe, one of American University's founders, became vice chancellor (and later chancellor) of the university, he envisioned an educational system unlike any that existed. He also oversaw the first fundraising campaign which provided the funding for the McKinley Memorial Building, the university's second oldest building.
To honor his legacy, the Board of Trustees started the Bishop C.C. McCabe Lecture Fund in 1906. The lecture series, still in existence today, has featured David Kestenbaum and Adam Davidson of NPR, geneticist Dean Hamer, poet Edward Hirsch, and illustrator Sandow Birk, in addition to numerous AU professors. 
On March 27, the 2013-2014 series will feature tissue engineer and TED Fellow Nina Tandon. She grows artificial hearts and bones using new techniques she developed to care for artificially grown cells. In her presentation "Super Cells: Building with Biology," Tandon will describe the inventions being created with cells. These creations may someday make personalized bone replacements, living condominium complexes, bacteria-made haute couture, and top sirloin grown sans farm realities for our world. She'll also discuss the ethics behind engineering cell-based improvements. 
Tandon's research is partially inspired by her family. "I have two colorblind sisters and a night-blind brother, so from a very early age I was aware that everyone sees the world quite differently," she said in her e-book, which shares the same name with her McCabe presentation. "This interesting mix of perspectives also taught me that the cells that form the very fabric of our being also mediate our experience of life. I understood that these cells, which might compose our eyes and also interpret the neural signals they produce, like any living object, are both miraculous and fallible. It was my first glimpse into biology as a technology." 
After receiving her bachelor's in electrical engineering, Tandon worked in telecommunications. "I was really interested in technologies that were interactive," she said in an interview with Refinery 29. "At night, I was taking classes at a community college, and I ended up getting way more into this physiology class than any normal person. I remember being in class and seeing all these parallels. I was this weirdo kid at the community college that was like, 'Oh my gosh, DNA is like a hard drive! The cables in the telephone wires at work are just like nerves!' And it really sparked my imagination toward going to grad school to pursue that idea further." 
She received a Fulbright Scholarship to Italy to work on an electronic nose used to "smell" lung cancer, then decided to go to graduate school for biomedical engineering. At MIT and Columbia University, she focused her studies on electrical stimulation for cardiac tissue engineering. 
Tandon is now the cofounder and CEO of EpiBone, the world's first company to grow living human bones for skeletal reconstruction. She also works as an electrical and biomedical engineer at Columbia University's Laboratory for Stem Cells and Tissue Engineering. She teaches a class on bioelectricity as an adjunct professor at Cooper Union, her undergraduate alma mater. Fast Company named her one of their 100 most creative people in business in 2012. 
While some say that most discoveries in science have been "done," Tandon believes there's plenty of opportunity for new findings. "We get a lot of messaging from the powers that be that we're not excelling in science anymore, when actually this country is at the epicenter of a really interesting movement, like the DIY bio movement," she said. "I get really excited about what could be an interesting new chapter in science that's coming online right now." 
Tandon's talk will take place on Thursday, March 27, at 8 p.m. in the Butler Boardroom. More information can be found on the McCabe Lecture Series website.