Humanities
Women's History No Longer in the Margins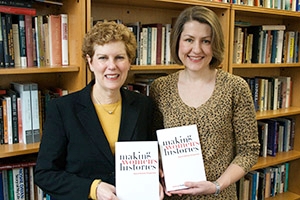 Not so long ago half of humanity was all but invisible in history books. Bit characters in male narratives of wars and diplomacy, the best women could hope for were cameos, the occasional "woman worthies" who somehow transcended the limitations of the fair sex.
The odd chapter on Joan of Arc or Marie Curie notwithstanding, women have never been content to be written out of the narrative. They've been writing women's histories all along. 
How those histories have grown in sophistication to the field's more nuanced transnational approach is, in part, the subject of 10 essays collected in AU history professors Pamela S. Nadell and Kate Haulman's new book, Making Women's Histories: Beyond National Perspectives. 
In Making Women's Histories, which Nadell and Haulman coedited, the perspective ranges from the experiences of women in Tsarist Russia and the British empire in Egypt and India to Qing dynasty China and the 1960s-era United States. 
In her essay "Women's Past and the Currents of U.S. History," essay contributor Kathy Peiss of the University of Pennsylvania cuts to the chase on what many women historians consider the political role of women's history. 
"When I began work as a women's historian," Peiss writes, "we all promised each other a revolution. If the original goal was to write women into history, we have made amazing progress—from exclusion to inclusion, from private to public, from attention to 'women worthies' to an extraordinary exploration of women from many different origins and all walks of life, in the United States and around the world . . . Now, women's history and gender analysis are shaping the comparative, transnational, and international histories that are beginning to revise anew how we understand the . . . past." 
Women's history's often explicitly politically engaged mission, coeditor Nadell maintains, makes it no different from other kinds of history—African American history, say, or her own field of Jewish history. Nor are all women's historians writing today "engaged in the same kind of political project," she says. 
Women's history now enjoys much more public awareness. But progress hasn't always been linear. Take the growing popularity of Women's History Month. 
Nadell's coeditor, AU history professor Haulman, is at best ambivalent about the annual recognition of women's accomplishments.
"I'm not a huge fan of Women's History Month," Haulman says. "It had utility for its time. But every month is Women's History Month. Women's history is everywhere. Segmenting it into its particular month can have a marginalizing effect." 
And that old heroine, the woman worthy, has hardly faded away. News of the first woman this, or the first woman that, is a TV and newspaper staple. 
"I just got something today, the first female rabbi chaplain in the U.S. Air Force," Nadell says. 
Even so, she agrees that women worthies can serve a positive purpose. 
"For somebody not trained as a historian, they're manageable, they're understandable," she says. "They're an individual life within your particular capacity to understand. The kind of more theoretical and sophisticated work we do in terms of women's history isn't always so accessible. So I understand the reason for it." 
An important benefit of women's history coming to the forefront is its effect on historians in general. It's no longer acceptable to pretend that half the human race doesn't exist, says Nadell. 
The book is dedicated to the memory of Robert Griffith, who was responsible for the spring 2008 AU conference on women's and gender history from which the idea for the book was born. 
Nadell and Haulman write in the book's acknowledgments, "[T]hat this book is now in your hands is due in part to the efforts and encouragement of our colleague, friend, and then department chair, the late Professor Robert Griffith. When a fund created in the 1890s for the 'education of young women alone,' unexpectedly fell into his lap, Bob, with his characteristic grand vision, imagined a series of projects which would advance the field of women's and gender history . . . American University's Clendenen Fund for Women's and Gender History was born." 
Asked which of the book's essays they liked best, Nadell and Haulman both smile. 
"We love all of our children equally," Haulman says. 
Making Women's Histories: Beyond National Perspectives (NYU: 2013) contains essays written by Arianne Chernock (Boston University), Anna Clark (University of Minnesota), Barbara Engel (University of Colorado–Boulder), Jocelyn Olcott (Duke), Kathy Peiss (University of Pennsylvania), Lisa Pollard (University of North Carolina–Wilmington), Claire Robertson (Ohio State), Mytheli Sreenivas (Ohio State), Ulrike Strasser (University of California–Irvine), Heidi Tinsman (University of California–Irvine), and Cristina Zaccarini (Adelphi). Nadell and Haulman wrote the book's introduction.