On Campus
Conference Examines Issues of Religion and Policy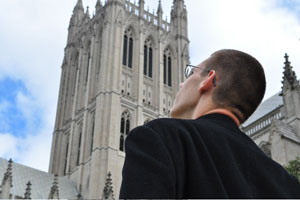 On Oct. 22, the Department of Philosophy and Religion will host this year's McDowell Conference, entitled "The Place of Religion in Public Life." Professors of philosophy, religion, justice, and law will speak on topics pertaining religion and spirituality and their relation to public policy.
The conference will take place from 1 to 6 p.m. in the Katzen Art Center's Abramson Family Recital Hall. "These are really burning issues," says Jeffrey Reiman, professor of philosophy and director of the conference. "In every newspaper these days, there's something about religion and public life. It's an issue that's on people's minds," says Reiman.
Reiman adds that this year's topic is particularly timely because the philosophy department recently added a bachelor's degree in religious studies. The conference will enable new faculty members who specialize in religious studies to showcase their expertise.
"I can promise, based on past conferences, that it will be a lively afternoon," says Reiman.
The McDowell conference aims to focus on the intersection between philosophy and public or social policy. In past years, the conference has explored abortion, children's rights, genetics, democracy, race, feminism, war, and human rights, among other topics.
The conference will consist of 2 sessions, with a break in between for refreshments. In each of the two sessions, three speakers will give 20 to 25 minute talks. When the speakers finish, audience members will ask questions. The first session will start with introductory remarks by Reiman.
This year's conference is dedicated to the memory of Lucinda Peach, a professor of philosophy and religion who passed away two years ago. Peach was particularly interested in the intersection of policy and religion.
The McDowell Conference is open to all and is free of charge. For more information, visit http://www.american.edu/cas/philrel/news/mcdowell.cfm.