Research
Professor's New Book Promotes Health Promotion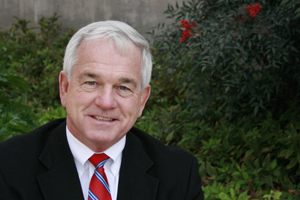 When Professor Robert Karch founded the MS Program in Health Promotion Management in 1980, he says he centered it around the idea that, "Healthy employees create healthy companies, healthy companies create healthy communities, and healthy communities create healthy countries." His new book, Global Perspectives in Workplace Health Promotion, touts the same philosophy and provides an overview of how several countries implement effective workplace health promotion efforts.
Written in collaboration with former student Wolf Kirsten and a team of colleagues that includes many of the members of the International Institute for Health Promotion Karch formed in 1996, Karch's book delves into the health care approach of 21 different countries and includes overviews of companies in each country that have run productive programs. "If you are a corporate executive, responsible for managing the health of a globally dispersed workforce, you now have a footprint of what is going on in particular countries with policy, programming, research, and case studies," says Karch.
As corporations move into global operations—manufacturing happens in one country, research and development in another, marketing in another—transferring a health promotion plan to other countries often doesn't work, no matter how successful the program may be at the company's home base. "The task is not just managing a corporate headquarters' world-class wellness program," explains Karch. "How do you create programmatically specific and culturally appropriate health promotion programs for your employees that are spread all over the world? Moreover, what metrics should be used to assess program outcomes?"
To take a corporation multinational means understanding cultural and traditional differences in each of the countries that now house part of the company. "We've made a lot of progress here in the U.S. with policies for smoking cessation," says Karch. "But how do you design, implement, and enforce a global smoking policy in countries where 60 to 80 percent of the male population smokes?"
When a company expands its operations to other parts of the world, the focus of its health policies must shift, as major prevailing health conditions generally change. More developed nations, like the U.S. and U.K., consider obesity, diabetes, and nutrition major problems. But developing nations, like Botswana and South Africa, list HIV/AIDS as their most urgent health concern.
Employees in countries with divergent cultures often have different needs and preferences when it comes to health program participation and insurance enrollment. "We're one of the few countries where, for corporations, health care costs are the number one factor driving health promotion programs," Karch says. "In most countries, for corporations, health care cost was ranked 12th or 13th."
In the U.S., employees generally contribute 30 to 40 percent to the cost of their health insurance, and corporations cover the rest. However, in most other countries, corporations contribute directly to government-run medical services programs (socialized medicine) and thus do not have a direct financial incentive. "If I'm a corporation in Germany, the reason I would provide a health promotion program is because I believe it's a social responsibility," says Karch. "And a driving force is that I'm going to have a healthier, less stressed, and happier member of society as well as an employee who will also be a more productive."
However, regardless of who or how health care costs are paid for, the costs of care, primarily resulting from lifestyle-linked behaviors, are increasing in all parts of the world. As Karch says, "Someone has to foot the bill."
Companies need to be on board, too. At first glance, they may not see the benefit of encouraging employees to seek out healthy lifestyles in and outside the office. Without that encouragement, however, they often see problems with job performance. "You don't see an increase in productivity or a reduction in absenteeism or presenteeism—you're at work, but are you really at work?" explains Karch. "Great corporations create a culture of health that yields a win-win outcome with the employee being the first winner."
Karch emphasizes creating a program, vision, or mission that all employees can buy into, particularly something that puts employees first. "It has to be, 'We're going to work together; we all benefit from this,'" says Karch. "If it's just, 'Let's do exercises so you can get fit,' or please get fit so you can work harder and the company can make more money, it's not going to work."