Arts
Saving the Legacy of Aging Artists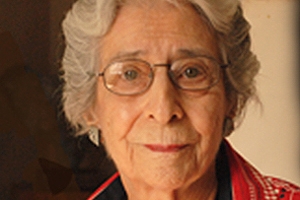 In many respects aging artists are a model for society, maintaining strong social networks and an amazing resilience as they grow older.
But a recent study by the Research Center for Arts and Culture (RCAC), Above Ground: Information on Artists III, revealed that 61 percent of older professional visual artists have made no preparation for their work after their death, 95 percent have not archived their work, 97 percent have no estate plan, and 20 percent have no documentation of their work at all.
Enter Joan Jeffri.
The RCAC director and current scholar in residence at American University's Department of Performing Arts saw this need and created ART CART: SAVING THE LEGACY, an intergenerational arts legacy project that connects aging professional artists with teams of graduate students to prepare, preserve, and document their creative work.
Over the course of an academic year, interdisciplinary teams of two students from AU and other D.C. universities, each working with a single visual artist and the artist's chosen partner, will document digital images, as well as relevant historical, biographical, and artistic background information, for the artist, to ensure the survival of their work. The program also has a leg in New York City.
"We have student fellows in the program from a broad and deep variety of disciplines," says Jeffri. "We have students from occupational therapy, social work, public history, arts management, museum studies, art education, and public health. As we go through this project, they are able to take lessons from each other's disciplines back to their own disciplines. We have also established some wonderful early bonds between the student fellows and the artists and the artists' working partners, so that the students are getting some real insight into a lifetime of being artists."
"Just as the student fellows bring different attributes," Jeffri continues, "our faculty also bring different attributes, skills, and talents. They are intimately involved. The fall semester is full of preparatory seminars and classes to get ready for the documentation. The students go to the studios, come back with their impressions of the situation and the challenges, so the faculty can help them think about what they will be doing in the spring."
The AU students receive academic credits for their involvement. After the documentation process is finished, the records are housed at the Columbia University Academic Commons.
Praise from a 100-year-old AU alum
One of the most valuable parts of the project is that the artists feel that another generation is taking a serious look at their work, and that gives them tremendous encouragement. One of the ART CART artists, 100-year-old AU alumna Marilee Shapiro, says, "Artists always have a dilemma. I always wondered what would happen to my work. I had no idea what to do next, and then ART CART came along."
"Needing to downsize in 2005 when we moved to a retirement facility, a large body of my work was shipped off to my family in Minneapolis. Now that venue is saturated and more work has accumulated. The gnawing concern of every un-acclaimed older artist is 'what will become of my work?' ART CART has eased that concern and is giving me the priceless opportunity to organize and record now so that my work will not disappear."
Shapiro, born in 1912, began her life as an artist studying sculpture in Chicago. She moved to Washington, D.C., in 1943 and continued her education at American University from 1945 to 1948. She then began exhibiting her artwork in and around the D.C. area, earning her a number of awards and prizes.
"She was originally a sculptor," says Marisa Beahm Klein, ART CART program coordinator, "but in her late 80s, she was having difficulty handling the large artwork. In response, she enrolled in a digital arts class at Corcoran to learn a new medium." Shapiro took computer graphics courses at the Corcoran and now creates fluid, transparent, and ethereal images using her computer as an expressive painting tool. "Now at age 100, she is a master of Photoshop and is still making striking art work."
Over the past six decades, Shapiro has exhibited at many venues, including the Smart Museum in Chicago, Franz Bader Gallery, Washington Studio School, Studio Gallery, and Warehouse Gallery. She also has a permanent installation at the American University Museum.
The most satisfying work
While coordinating the project has taken much time and energy, the results have been rewarding. Klein explains, "It is a challenge to coordinate activities with so many diverse people who are scattered around the city, but it has been rewarding to meet new people and to become involved with new communities."
The interdisciplinary nature of the program also allows people in other disciplines to see the effect of the arts. Jeffri comments, "This is giving the students who are not in the arts a real insight into the value of the arts through the human lifespan and how it can contribute to vitality, health, productivity, attitude, resilience, tenacity, and self-worth."
But ART CART benefits not only the student fellows. Many artists have praised the program and explained how it has helped them. Lilian Thomas Burwell, an 86-year-old artist, says, "ART CART is an education in hope."
Klein also describes the impact the artists have had on each other. "I have loved witnessing how close knit the artists are in D.C.," she says. "Many of the ART CART artists knew one another before the project, and they are very supportive of one another." For example, one of the artists mentioned that she couldn't find the embroidery floss she needed for her project, so at the next meeting another ART CART artist brought her a bag full of embroidery floss from his own supplies.
Jeffri calls this "the most satisfying work that I have done in my lifetime. I think the way I often feel about it, and I think most people do too, is that this is a project where everybody wins. Everybody has different motivations, but they are all satisfied. I am learning, challenged, and satisfied every day by the older artists. I'm always impressed by the students and their great ideas. And mostly, I think it is this incredible interaction in which we all learn together that is so satisfying. That is really what learning should be about."
Upcoming exhibitions
Klein adds that she also sees the project as a valuable learning experience. "Being the program coordinator has given me valuable insight into running an arts nonprofit, and I have loved working with visionary leaders like Joan Jeffri," she explains. "Furthermore, I have always been passionate about working with older populations, and this program has been an ideal way for me to fuse that interest with my love for the visual arts."
In 2016, ART CART will expand to six locations. Jeffri also hopes to spread the program to more rural areas.
Exhibitions of the artists' works have also been planned for the fall. One will be held at the Corcoran in Gallery 31 in Washington, D.C., September 11–29. The other will be installed at New York University in the Stovall Gallery from September 5 until October 20. The exhibitions will be accompanied by panel discussions by the artists themselves and projections of artists' works from the partner cities.