Literature
Menon's Book Examines Shakespeare through Queer Theory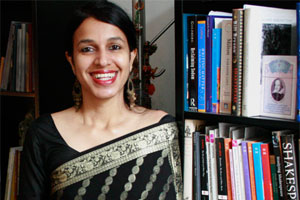 The intersection of Shakespeare's texts and queer theory is the subject of Shakesqueer: A Queer Companion to the Complete Works of Shakespeare (Duke University Press, 2011), a new volume edited by literature professor Madhavi Menon.
Queer theory challenges the ideas of natural and immutable identity and proposes that our identities are neither fixed nor defined by a single characteristic.
Menon challenges the analytical approach that most Shakespearean scholars specializing in queer theory take to the Bard's texts.
"One of the things I'm interested in is temporality and how or why Shakespeare, from the 16th and early 17th centuries, can talk to a phenomenon that got codified only in the 20th century," she says. "Clearly, there cannot be a relationship if we think of chronology or of history as separated into discrete compartments, such that every century is contained within itself. There has to be some kind of conversation across time."
The book project grew out of Menon's Shakesqueer course at AU. In the process of compiling a list of essays for the syllabus, she amassed the foundation of an anthology. Menon approached scholars who identified themselves as queer theorists rather than as specialists in narrower fields of chronological study.
"I want the conversation to take place on a broad scale," she says. "Otherwise, we quarantine off areas of thought, periods of foment. The reason we still study Shakespeare is because his works are compelling in their seemingly endless depth. Why, then, should we say we cannot bring our knowledge generated today to bear on a text from 400 years ago?"
Menon asked the authors to theorize their texts and the stakes of their argument rather than build a critical apparatus around their ideas. While this is standard procedure for most critical essays, she says that she wanted people to write polemical, short, and pointed essays that would get immediately to what might be queer about a text.
"I wanted to unburden people from having to grapple with centuries of criticism on a play or poem. A lot of my contributors were really intrigued by the idea of cutting to the chase. And that's why the caliber of these essays is really high."
Menon's publisher has been exploring ways to market Shakesqueer as a textbook. Although it would be hard to cover 48 essays in one course, Menon hopes that the book will be helpful to students after the semester ends.
"This will give people a resource in terms of the kind of queer theory that can be done," she says. "Just as an exemplary theoretical text, it's going to be very useful."