Literature
Classroom Lessons Inspire Poetry Collection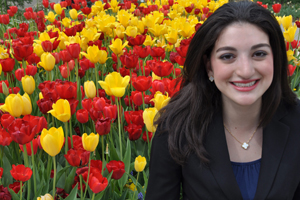 Shirin Karimi, CAS/'11, published her first poetry collection, Enclosures: Reflections from the Prison Cell and the Hospital Bed, after finding inspiration in Professor Robert Johnson's Prison Stories class. "By imprisoning my body//They've broken the shackles of my mind," she writes in her poem "A Proclamation, A Blessing."

Her collection, which details the struggles of the imprisoned and hospitalized, was published by Bleakhouse Publishing earlier this year and draws parallels between the confines of prison and the confines of sickness.

A literature major and premedical honors student, Karimi needed to take a few honors classes in the spring of '09 and enrolled in Johnson's Prison Stories class. The course investigates the prison system through the published texts of prisoners. Little did she know that she'd be registering for a class that would help shape her career in surprising ways.

"I came into the class with no experience or expectations of what I would learn, but I found that all of my expectations of what prisons were like broken," says Karimi. "There's this whole world out there that's unknown to us.  You can actually learn a lot from people in that type of environment."

Johnson allowed the students in Karimi's class to write their own stories for the final project, thus igniting her creative endeavors on the subject of prisoners. Karimi's interests compelled her to register for Johnson's follow-up class, Deprivation of Liberty, in which she began writing poetry about prisoners.

"There were so many stories of desperation that it's hard to believe that people can be in that type of environment for such long periods of time," she says. "I think the one thing that kept ringing in my head was that all of humanity was magnified—every good part, and every bad part—in such an enclosed space."

Karimi also noticed a similar suffering in another facet of her life—the hospital. As a premedical student, Karimi spends her time volunteering at Georgetown University Hospital's Pediatric Oncology Clinic caring for children with cancer.

"I thought about how prisoners are enclosed by a prison or their cell, and these people are enclosed by sickness or their bodies," she says. Everything from limited movement to limited appetite confines young cancer patients in the pediatric oncology clinic.
 
Her poetic parallel caught the eye of Johnson, who has since become a mentor for Karimi and encouraged her to publish the collection last spring. "For me, the most exciting part was having someone say that you can create something on your own, that you've thought of something in a new way that people generally haven't thought of before, and that you have a passion for writing and can actually make something come out of this," she says.

She followed Johnson's advice and submitted her poems for publication with Bleakhouse. Enclosures: Reflections from the Prison Cell to the Hospital Bed began taking physical shape when the collection was accepted by the publishing house, and alumnae Sonia Tabriz, SPA/CAS '10, and Liz Calka, SOC '10, designed the book, a process that Karimi describes as surreal.

Since the collection's publication, Karimi has been honored with an on campus reading of Enclosures and has been awarded a Victor Hassine Memorial Scholarship for her creative endeavors regarding crime and punishment. Karimi and Chris Miller SPA/'11, were the first ever recipients of the award. "I'm very excited. It's a great honor to be acknowledged," she says.

Her work with prisons and crime and punishment has evolved with Bleakhouse Publishing, where she now works as a consulting editor for the company, reading and providing feedback on creative pieces from inmates. She also serves as Editor in Chief of Bleakhouse's Tacenda Literary Magazine, which publishes literary works related to crime and punishment. "A lot of people from AU have submitted work, and it's just another great medium to get the word out," she says.

Karimi plans to continue pursuing literature and her medical career after graduation and hopes to someday become a medical correspondent.