Arts
Art Professor Returns to Her Beginnings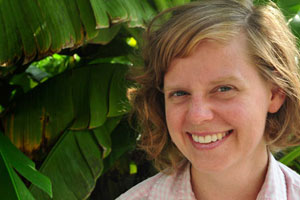 When new studio art professor Danielle Mysliwiec started graduate school at Hunter College in 2001, she departed from the monochromatic, system based abstraction that she was making as an undergraduate student at Wesleyan University and began experimenting with a much more colorful, cacophonous, and gestural approach to painting.
Now, however, Mysliwiec is back to her beginnings. Her current body of work consists of abstract oil paintings using unique texture and subtle colors.
"When I graduated, I had new conviction," says Mysliwiec. "After trying many new ways of working, I knew if I was returning to methodical processes and simplicity, it must be an essential part of my personal sensibility. And paintings should be driven by that."
Currently, Mysliwiec uses a technique she created to make paintings that look as if they are woven. She developed this technique several years ago while conducting experiments in her studio.
"In the studio, you spend all these days doing things and you're not quite sure why you're doing them," says Mysliwiec. "Often times you'll make something and it won't be until five years later that you realize that was the seed for a whole new body of work. One study I created during grad school was made out of dried acrylic paint that I peeled off of a sheet of glass, cut into strips and wove together. It was small, an afterthought, and I kept it around, but I never knew what to do with it."
Now, Mysliwiec makes her woven works with oil paint, which can't be dried and woven. Instead she developed a technique for extruding the paint systematically to create the illusion of weaving. The result is an extremely detailed, symmetrical work with a distinct texture.
"When I'm painting, I'm trying to create a visual experience that I want to look at infinitely" says Mysliwiec. "Kind of like what you do when you're out in the landscape. There's so much texture and pattern that activates the eye and the mind. Kind of like being in a field of grass or looking up into the sky."
Painting is not Mysliwiec's only creative outlet. She cofounded Brainstormers—a feminist collaborative art group that explores issues of gender inequality in the art world through exhibition, street performance, and activism. According to Mysliwiec, most MFA programs have an equal ratio of female and male students. However, in the professional gallery world, those numbers shift to about 70 percent men and 30 percent women.
"Even though people these days don't say things like, 'I won't show women in my gallery,' the systems of networking are very much still in place," says Mysliwiec. "There's a perpetuation of disparity and discrimination."
Currently, the group is working on an exhibit for Rutgers University about "the contemporary media icon of the artist," an image that Mysliwiec says rarely matches reality.
"That is, the mythical night owl and self-destructive drinker who also happens to be an aesthetic genius," says Mysliwiec. "And usually a man, as portrayed by the media."
The exhibit, to debut next year, will examine and critique this stereotype. It will also juxtapose this image against a more realistic depiction of the contemporary artist, according to Mysliwiec—"the people who are getting up, working a couple of day jobs, parenting, and trying to juggle a lot of everyday things that a lot of other people in the world juggle."