Research
Researching Child Warfare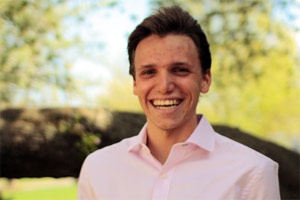 A few years ago, the short film Kony 2012 went viral—it received over 100 million views in six days. The film, produced by Invisible Children, promoted the Stop Kony movement, which intended to spread the word about International Criminal Court fugitive Joseph Kony in order to get him arrested. The film stuck with AU sophomore history major Toby McCarroll, and when he was assigned a paper on a global majority issue for a class, he decided to use the opportunity to further examine child warfare in Uganda and the Democratic Republic of Congo.
McCarroll researched the abduction of children in Uganda, and he examined additional information and figures from the World Bank, including gross domestic product and life expectancy. He found that though the abductions of children who would be used as soldiers had decreased since the ceasefire that was negotiated in September 2006 between the Ugandan government and the Lord's Resistance Army, a rebel group, they were still fairly prevalent. "It's difficult to determine how much peace talks really quelled numbers," he says. "Organizations have had a tough time gathering information because of the ongoing civil conflicts."
The fact that children were still being kidnapped into service was still apparent, however. "I was surprised to know that there are still children being held against their will, and that both the government and rebel forces are still using children as soldiers," says McCarroll.
Unlike many classes, when students turn in a research paper and don't expect to revisit it again, McCarroll was contacted by his professor about submitting it to the Robyn Rafferty Mathias Student Research Conference. "The night before deadline, I figured I may as well enter," he says. "They could only say no."
Luckily for McCarroll, that ended up not being a concern. His paper, "Uganda and the Democratic Republic of Congo: Children at War," was selected to be a part of the Learning from Foreign Cultures panel. His paper was awarded best oral presentation in the social sciences by a freshman or sophomore. "I feel extremely honored to have been chosen as the winner," he says. And while he didn't have many expectations, he was pleased to find out that others wanted to know more. "I didn't think as many people would be so interested in my topic."
The conference gave him the opportunity to practice public speaking, which he says would likely benefit him in his future career. "I'm looking at going on to do law. And I can see myself going back home to The Bahamas and possibly getting into politics."